Alberto Ezzu Lux Vocal Ensemble
Le Litanie di Râ - Cd Digi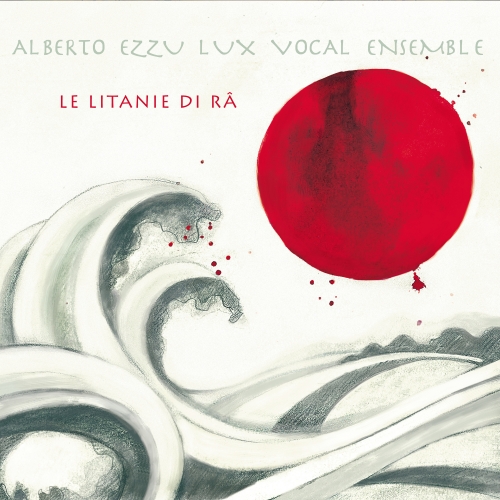 Tracklist
1 Gli Incantesimi Dell'Uscita 10:54
2 Il Canto Di Orione 7:29
3 Le Anime Dell'Occidente 7:35
4 Le Sette Stelle Dell'Orsa 13:22
5 La Pratica Del Cammino 12:35
6 Il Vento Sulla Barca Di Râ 9:18
Credits
• Cover – Caterina Bianchetti
• Mixed By – Stefano Bersanetti
• Music By, Overtone Voice, Synthesizer – Alberto Ezzu
• Overtone Voice, Percussion – Massimo Apicella, Matteo Martino, Walter Mantovani
Notes
Registrato negli studi Music Garden, Torino e nella chiesa della Verna, Cumiana, 2015/16.
Alberto Ezzu, Massimo Apicella, Matteo Martino, Walter Mantovani: voci difoniche, percussioni, sintetizzatore.
Registrato negli studi Music Garden,Torino e nella chiesa della Verna, Cumiana, 2015/16
Tecnico del suono: Stefano Bersanetti Fotografie di Giorgio Rosso
Illustrazioni e copertina di Caterina Bianchetti
~
The Alberto Ezzu Vocal Ensemble was born in 2001 to perform his own compositions and improvisations mainly using harmonic chanting.
In this latter work the vocalists are inspired by the funeral texts of ancient Egypt The Litans of Râ to follow a vocal path Which crosses in multiple forms the various registers of male voices to describe the spell and the magic of harmonic singing. They sometimes accompany with small percussion instruments shruti box and synthesizer. Every sound in nature is a complex event of pure sounds whose vibratory frequencies are mutually exclusive in mathematical musical relationships.
These sounds are called harmonic sounds. The techniques of diphonian song allow to filter the harmonic content present in the timbre of the human voice and to produce precisely distinct sounds in a conscious and creative way by organizing true single-voice polyphonies.
Share on Facebook