India Czajkowska
Cosmospir HSL 047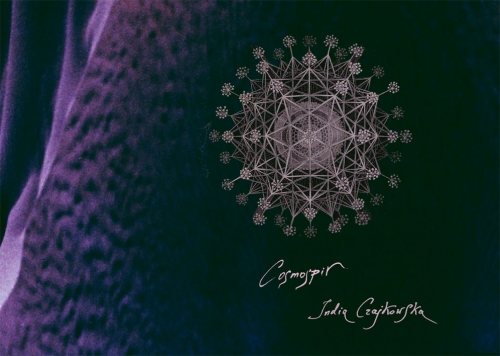 Intricately detailed dream ballads never stray too deeply into the dark, instead giving off an optimistic radiant glow.
As delectably melancholic as it is determinedly bright
Tracks: 01 Tiridoi02 Tireire03 Ticos04 Walking down05 Lomirra06 Kirismou07 The river knows08 Cosmospir09 Winter Paüel10 Summum11 Reflection12 Mizre13 Pleyeteitis India Czajkowska: vocal, prepared piano, synthesizer,flute, compositions, lyrics.Ignacy Grzelaska: cello (track 02-04)Tomek Konopinski: voice (track 08-13)Pawel Lasocki: bowed guitar, additional synth sound (04)Karolina Wojaczek: cello (track 07) Mastering by Tadeusz Sudnik, Warsaw, autumn 2007,(Studio Dzwiekow Niemozliwych)tracks 01-07-08-09-10-13 mixes, overdubs & most of recordings engineered by Tadeuz Sudnik.tracks 02-03-04-05-06 recorded live at home studio. All compositions by India Czajkowska (ZAiKS) except:track 02 co-composed with Ignacy Grzelazka.track 04 with Ignacy Grzelazka & Pawel Lasocki (IgipTRIO).track 07 with Karolina Wojaczek. Special thanks to all without this album wouldn't exist:
Alio Die, Tade Sudnik (for priceless help in studio),Dariusz Schneider (for amazing support!)and Chris Dabrowski, who ispired me to create thecosmospirian idea., my Mum, Raf Smolinski (track 11)& Krzysztof Zurek (track 07), Milo Kurtis & all artistsand studios taking part in the recordings... I dedicate "Cosmospir" to my Dad, especially the title piece - he knows why."...every day, a little 'bit dying' (Pattabhi Jois) taking a breath... Produced by India CzajkowskaCover conpept by India Czajkowska/Stefano MussoArtwok by Hic Sunt Leones

Cosmospir (2008)
"Cosmospir"is a debut album from Polish singer/improviser and composer, India Czajkowska.Her music overturns categories through a fluid blend of classical instruments,experimental vocal technique and electronic spectrum arrangements.
The dark alchemic laboratory in a deserted factory, the walls of which are breathing still with industrial noise. The space is sinking into strange sacral whispers and through the broken panes birds are flying in. The roar of the wind and the dripping of raindrops. From this mosaic of sounds the golden ringing of voice appears,cutting the thick air. This abstract landscape came to me from the sounds of the Cosmospir album.This is music for those who aren't afraid to plunge into the deep, and sometimes, even dark areas of their own soul. Especially for those who love to travel far away, without going out, just focused on listening to fascinating sounds.
Joanna Kasztelaniec
The combination of classicaly trained vocals and atmospheric contemporary electronica is gaining ground. After Klaus Schulze and Lisa Gerrard hit it offon the massive and controversially received double album "Faiscape" (on Synthetic Symphony) and Ambient Drone master Alio Die joined forces with temptress Martina Galvagni on the blissful "Eleusian Lullaby" (Projekt Records), Alio Die's Stefano Musso's is now presenting a fresh face and promising new voice to the scene on his Hic Sunt Leones imprint. Even though India Czajkowska has been a steady creative force in her native Poland for over a decade, founding several underground ensembles and experimental el ectro-acoustic formations, "Cosmospir"constitutes her debut as a solo artist. On thirteen tracks Czajkowska presents an otherwordly melange of spherical atmospheres, psychedelic arrangements for prepared Piano and bizarre dream states filled with field recordings and swarms of sonic micro particles. Adding Cello, Flute and Guitar to the mix and sieving the elements through subtle Software filters, "Cosmospir" thus cuts through genre barriers like a fiery sword.
"It's an attempt to call the deepest, intimate layers of the psyche,one's own internal space related to time, bringing narrative in an invented but individual language". DM Schneider describes the album in his introductory words, "It's a way of breaking through to a hidden side, where we can get to know ourselves and the invisible mist surrounding 'reality'. Behind this mist there is an open space and we have much more to do with it than with anything in (our) everyday existence, even though we've just realised it there."
Extracts from "Cosmospir" confirm the suspicion that India Czajkowska has used the years wisely, establishing a confident style of her own, which nonetheless offers plenty of obvious associations. Remarkably, her intricately detailed dream ballads never stray too deeply into the dark, instead giving off an optimistic radiant glow. Even her slow, simmering beats always seem to march forward instead of passively marking time. As a result, her debut points to a future that is as delectably melancholic as it is determinedly bright.
"Cosmospir"by India Czajkowska is limited to 300 copies.
byTobias Fischer, www.tokafi.com

India Czajkowska is something of a veteran in the Polish experimental (post-classical?)music scene, but this album represents her first ever solo recording. It conjures a dark but airy musical world, working into the listener's conscious at various levels, some almost subliminal. Centre-stage is taken by is Czajkowska's voice. Her classical training has informed her technique to a very high standard but thankfully without reducing her performance to the empty execution of formalism. There's a sultry, dangerous energy to her singing, her voice often sinuous and low to the ground like a predatory serpent. Her vocals,particularly when she hovers in the thrilling lower cadences of her range, are sensual, but deadly; at other times, lighter, more buoyant. She is able to seduce her listeners' ears into a wide range of emotions and imaginal worlds. At times the vocals become more strident, urgent and forceful; at other times more pensive, distant,washed out. In addition to her almost kinaesthetic singing, Czajkowska is more than happy to experiment with all kind of vocal noise-making, though always in atasteful and subtle fashion. Her brand of experimentation has a deep sensibility– this is not just vocal shock tactics unleashed for superficial effect. Her vocals are set against her own idiosyncratic and angular piano work, as well as some exquisitely communicative cello work (performed by Ignacy Grzelaska and Karolina Wojaczek) and a range of drones, chimes and atmospheric samples. The compositions tend to be minimal and free flowing, but never merely simplistic – there's sufficient inspiration and spark in the music that even in its simplest moments it can be spell-binding.
Czajkowska utilises reverb and delay to excellent effect on this release. Often you can hear,echoing out in the distance, drones, instruments, layered voices, clattering percussion. It creates a very evocative atmosphere, dark and watery. I cannot help but think of the symbol of the swamp in old European folklore – a dangerous, uncanny place, filled with mystery and beauty.
On the whole the music is quite laid-back, not overly forceful, and although it canbe a little unsettling at times if you are tuned in closely, it also hovers comfortably in the background of everyday activities. In this respect the album strikes a difficult balance – it is neither limp nor overwrought. For avant garde experimentalism such as this, I think that's quite a feat.
This is a release to take your time with in order to fully savour the many flavour sand scents of its unfolding. A very impressive first step for India Czajkowska's solo career.
Henry Lauer / heathenharvest.com


"Cosmospir is a kind of precious extract made of classical instuments' sound, piano, cello, voice, guitar, flute, in an assistance of the electronic spectrum. Only this? It's an attempt to call the deepest, intimate layers of psyche, one's own internal space related to time, bringing the narrative in an invented but individual language. It's a way of breaking through to a hidden side, where we can get known ourselves and invisible mist surrounding 'reality'. Behind this mist there is an open space and we have much more to do with it than with anything of everyday commonplaceness, even though just here we could realised it... " (dmsch)




Share on Facebook