Alio Die & Zeit
Il Giardino Ermeneutico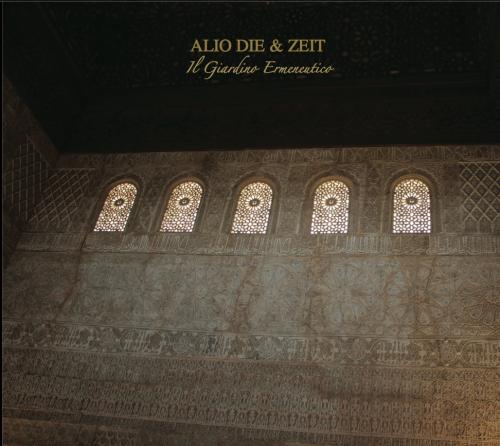 "

con un tocco

sensibile

trasporta

sottilmente

l'ascoltatore

in

un luogo incantato

e multi

-dimensionale

, adatto

al relax

"
Track list:
1. I racconti del vento (I-III)
2. Il Giardino Ermeneutico
3. Punto di fusione
4. Una visione d'ambra
All music composed and perfomed by
Stefano Musso(©BMI)

and Tommaso Cimò, between 2006 and 2009.

Acoustic recordings took place

in Lunigiana, Italy
in August 2006.

Edited at Temple Studio, Milan, in
2007.

Additional recordings were made at The Mag Studio, Florence, in late
2009.


Mixed and mastered by Tommaso Cimò in January 2010.

Artwork by Hic Sunt Leones.



Zeit

: zither, kalimba, bells, synthesizers & guitars, shruti-box


Alio Die

: zither, drones and loops, field Recordings

ALIO DIE & ZEIT - Il Giardino Ermeneutico (2010)

Per chi lo conosce, e lo segue da anni, Stefano Musso, ovvero Alio Die, è colui che sa parlare alle conchiglie e alle foglie, sa ascoltare le nuvole e sa accarezzare i ruscelli.
È il maestro che interpreta le lingue segrete della dea natura.
E dona una voce a ciò che è inanimato.
Alio Die ha una sensibilità preziosa. E un dono raro: quello di saper entrare in contatto con il suono delle cose mute. La sua, oltre che un'arte pagana, è anche una ricerca animista e spirituale.
In questo disco sono racchiuse le musiche che dal 2006 al 2009 ha realizzato e registrato assieme a Tommaso Cimò, in Lunigiana.
I brani sono sei in tutto: frammenti di un altrove divino.
Dove attraverso un frattale ipnotico immaginifico si sfiora l'estasi del drone. Se per sciamano si intende colui che sente e sa far entrare in contatto gli altri con una forma di magia: Alio Die e Zeit lo sono senza ombra di dubbio.
Roberto Mandolini/Rockerilla 8/10

The third collaboration with Zeit displays a wonderful and unique combination between acoustic sounds, field recordings and airy gentle electronic sounds.
The sonic result maintains the natural atmospheres of the original
acoustic recordings, done at the time of the Raag drone theory's sessions in Lunigiana, Italy at Chiostro dell'Annunziata and the Wood Sanctuary in August 2006.
Here the treatments enriche the mixture with a new sensible touch that subtly transports the listener towards an
enchanted and multi-dimensional place for relaxation.
Other available Cds by this artist:

Zeit - Waves From The Sky (CD, Album)


Share on Facebook