STEFANO SCALA
Metamorfosi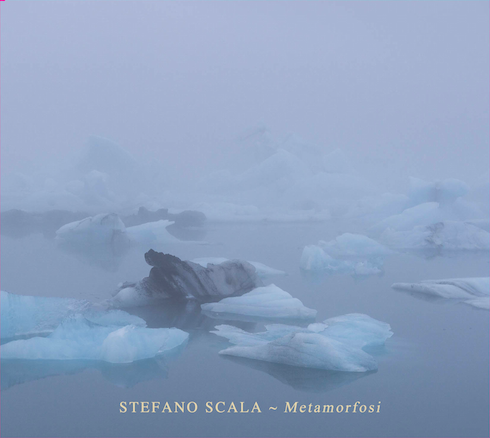 1 • METAMORPHOSIS ONE 7.46
2 • METAMORPHOSIS TWO 7.37
3 • METAMORPHOSIS THREE 5.25
4 • METAMORPHOSIS FOUR 5.15
5 • METAMORPHOSIS FIVE 5.00
6 • MAD RUSH 14.10
7 • NIGHT TRAIN 22.05
STEFANO SCALA Metamorfosi (2019)
A work based on Philip Glass music
All music by Philip Glass
Published by Wise Publications London UK
Gaio Brivio – pianoforte 6,7
Mattia Mistrangelo – pianoforte 1,2,3,4,5
Stefano Taglietti – voce recitante 1,7
Stefano Scala – ATON Drumset Classic V1, octo – snare, piatti Ufip, sanza, lamelle, bongos, foglie bambù, sonagliere, semi, canne di fiume, pigne, acqua, richiami uccelli, synth treno, synth bass station II
Brani recitati da Stefano Taglietti tratti da: "Metamorfosi" di Ovidio e "Il Fascino del Treno" di Romano Vecchiet, adattati da Stefano Scala
Registrazioni Novembre 2018 – Gennaio 2019 : Studio GB Home da Gaio Brivio e Studio Pongo da Fabio Bertin
Missaggi: Gennaio 2019 - Fabio Bertin e Stefano Scala
Supervisione Musicale: Phil Roberts
Produzione Esecutiva ed Arrangiamenti Ritmici: Stefano Scala
Ringraziamenti: Luigi Tronci – Ufip, Domenico Schiariti – ATON per il supporto strumentale.
Anja Kovacic, Mario Brandazzi, Stefano Musso, Romano Vecchiet, per l'aiuto discreto.
Lorenza Stroppa – Ediciclo Editore per la gentile concessione del testo di Romano Vecchiet
Stefano "Brushman" Bagnoli e Vincenzo Zitello, per i preziosi consigli.
Andrea Zampatti – Wildlife per le stupende foto.
Stefano Musso - Artwork
"Philip Glass, thank you very much for your music – this music is for me a great gift ! "
We all walk on this planet, each on his path and on our journeys we accompany the steps with our positive and negative emotions.
We travel through our changes and transformations, often towards radical changes consciously or unconsciously. Emotions that depend on how attentive we are to our vital transformations.
By now we are used to certain inner and outer metamorphoses.
Changes in shape, overcoming levels and stations on trains that cover so many human stories, traveling at different speeds depending on our point of view, right or wrong, in which we find ourselves.
We aspire to the goal, but perhaps the journey is more important.
Bon Voyage.
Stefano Scala

Share on Facebook