Alio Die
Sit Tibi Terra Levis/Introspective HSL 049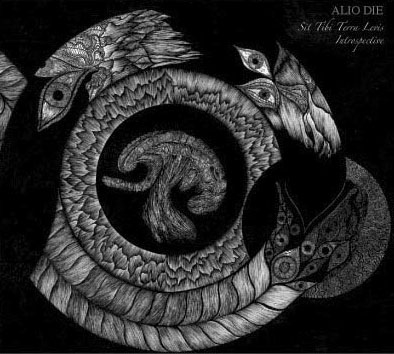 Beautiful ambient textured sounds and very mysterious moods which provide a thought provoking atmosphere.
Tracks: 01 Metempsychosis
02 Sempiterna Mutatio
03 The Laws of Manu
04 Rising Circles
05 Frammenti da un Sogno
06 Infrapolatia
07 Ollin
08 Mazes and Labyrinths
09

The passage of Nostalgia
10

Expansion and Contraction
11 Introspective
12 The Evocation of the Invisible
13 Visions of No-Time Worlds
14 Equilibrio d'Ali
15 The Inner Escape
16 Thoughts by the Side of the Path
Recorded between 1990-1991 and original relehases on tapes. Printed on cd in 1993. Cover paintings by Joseph Uccello
Sit Tibi Terra Levis / Introspective (reprinted 2008)

HICSUNT LEONES presents

"Winter Solstice's Spores

"

.Are print of two classic albums:

"

Sit Tibi Terra Levis/ Introspective";CD in 6 panel digipack limited to 333 copies

Two milestones of Alio Die's discography are available again after a long hiatus.

This new edition offers two superb collectible digipacks printed in black on silver,in collaboration with the American graphic artist Joseph Uccello. This combination of music and artwork is an ideal celebration of this time of the year, as the "Sol Niger" approaches.



"In the course of life we encounter a kind of special state of consciousness– a moment at the threshold of a deep spiritual experience. At the border of the conscious mind (and perhaps with an initial feeling of disorientation),emerges a strong attraction toward a newly encountered state of being: a state that we feel is crucial in some way, and toward which we subconsciously strive,over the protests of normal rationality. On the other side of this threshold,beyond that apprehension, there is a sedimental layer of inner preparation which makes us ready for that moment. The energy evoked during artistic creation has always held similar qualities to this process; and listening again to these early works, it becomes clear to me just how vital to my music's flow is this process of transformation and awakening. I feel that this same process in forms the art of Joseph Uccello, which elegantly accompanies the music of these two re-releases.

"Introspective,Sit Tibi Terra Levis" and "The Hidden Spring" satisfied completely this desire of immediate expression;truth calls for realization, and the feeling of 'spring water' contained in these albums has for me still something magic after such a long , long time."

AlioDie, December 2008

Experimental/ambient legend Alio Die (AKA Stefano Musso) originally recorded SitTibi Terra Levis and Introspective as separate releases in the early 1990's, but this limited run re-release sees the two combined into a single album.

It might seem arbitrary to throw the two together but in truth they flow together very naturally. Furthermore, despite the age of the recordings they still sound as fresh and original as the best of contemporary atmospheric releases.


Musically this album is thoroughly camped in ambient ground, with reverb-wet drones the mainstay substance of the compositions. The drones pulse, slither,float and drift in subtly interwoven layers,

evolving through the tracks into different sound fields gradually and subliminally.

The effect of these gradual sonic evolutions is that the music moulds one's listening consciousness below the threshold of awareness. It is extremely immersive, and the result is that it can dissolve one's sense of separate self. I find myself in some emotional space or other and then suddenly realise that I have lost the distinction between my subjective feeling and the sound of the music.

Sometimes it seems like the drones are actually human voices, albeit heard at great distance, perhaps on a cold night, singing otherworldly songs. Sometimes a sliver of music will seem vocal but then resolve into a clearly instrumental thread. This sense of indeterminacy makes the music all the more absorbing.

Enriching the drone architecture of the music is a range of field recording sand various noises that sound like chimes, gongs and the like. The percussive elements always work at a languid pace, and serve less as rhythmic instruments then as markers of harmonic change and space. They contrast with the drone elements in a very natural fashion.

The field recordings – water perhaps washing over a beach, wood clattering near waves, bubbling liquid, the distant presence of insects – evoke very vivid mental images of liminal natural places by night, environments such as the meeting of land and sea or the places where forest rots into marsh.

There is a tremendously dark atmosphere throughout the recording, not in the sense of evil or foreboding, but rather simply mysterious and beautiful as only the night can be. The image I mentioned earlier – water washing onto a beach– also alludes to the very wet, watery feeling of the music.

These two ideas – nocturnal water – sum up the fabric of this music for me.Both the night sky and the sea are vast bodies into which an individual consciousness can completely dissolve, and this music invites such dissolution whole-heartedly. It feels good to hand over – without even trying – my sense of attached self hood and dive into these shadow-clad musical world scapes.


I am grateful for Alio Die's decision to re-release this material, a timely reminder of the fecund history of his continuing creative journey.

HenryLauer / heathenharvest.com




ALIODIE –Sit Tibi Terra Levis/ Introspective;CD in 6 panel digipack limited to 333 copies
…Beautiful ambient sounds and textures which provide a thought provoking atmosphere. Very mysterious moods shift throughout the different tracks presented on this cd. A subtle power, and features some excellent aural work.
DanielPlunkett / N.D. Texasspring 1993
…Sit Tibi Terra Levis, "que la terre te soit légére": inscription tumulaire fréquemment usitée sur de vénérables tombeaux. Le titre de cettecassette (reprint en cd) convient bien a' la musique d'Alio Die. Filamenteuse,éthérée, vaporeuse,pour ne pas dire planante,elle évoque des climatsreposants d'une simplicité déconcertante. Alio Die alias Stefano Musso est un minimaliste qui ne s'encombre pas de soucis stylistiques. Il meuble l'air de sonorités discrétes sans tomber dans la trappe new age. Il est bien trop réservé pour ca!
EricTherer Casse-tete / printemps '93
Share on Facebook