Alio Die
Suspended feathers -Amplexus 9602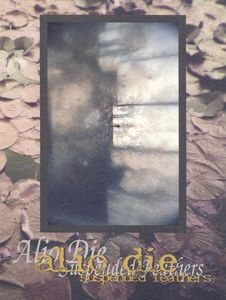 Amplexus 1996
A splendid mixture of enchanting instruments, loops and environmental treatments combine to form a multiple layered ambience ideal for meditation.
Tracks: 01 Descending past 02 Ruins Garden Drones 03 Time of Absence 04 Suspended Feathers 05 Wings of the Firefall
" 'Descending Past' was originally projected to become a MCD for the Amplexus serie. But in the meantime I had other tracks recorded in different moments during the last two years. So, I proposed Stefano Gentile to publish a full lenght CD.
Vidna Obmana and I composed 'Wings of the firefall' in 1994 after years of collaboration and reciprocal esteem. I'm really satisfied with the results and thank him to have been waiting till now to see it published. 'Ruins garden drones' has been created spontaneously putting together Gregorio Bardini's sonorities and mine."
Alio Die: Sample, loops, processed tapes, ocarina, treatments Gregorio Bardini: Flute on 02, turle ocarina on 03, strange flute and whistles on 04 Vidna Obmana: Electronics, loops, processed tapes, mexican rainmaker, shells, chinese cymbals and northern sonoran dreampipe on 05 All titles created and produced by Alio Die except:track 02 by Alio Die and Gregorio Bardini and track 05 composed, arranged & played by Alio Die and Vidna Obmana and assembled, produced and mixed by Vidna Obmana at the Serenity studio, Belgium, March 1994.
Suspended feathers (reprinted 2005)

Rarely an album comes along that elicits so many different feelings one is left speechless. Suspended Feathers achieves such sacred distinction. Executed with such meticulous attention to detail, the music of Italy's Alio Die is a fine art to behold. A splendid mixture of enchanting instruments, loops and environmental treatments combine to form a multiple layered ambience ideal for meditation. The continued flow of running water through these channels symbolizes cleansing or purification. It is effortless to lose oneself in the opening reverie "Descending Past" which surrounds the listener in the sounds of nature and wildlife augmented with rich electronic pulses. "Ruins Garden Drones" acts as a gentle lullaby with a beautiful flute accompaniment by Gregorio Bardini, truly one of the most serene compositions you could ever dream of.


The title cut conveys the manifestation of a benevolent spiritual presence,although movements of a similar nature can be found elsewhere on the disc. "Wings of the Firewall" features none other than Vidna Obmana who also served as co-writer. This piece magnificently illustrated the union of two artists who are at one with their music and self. The stunning photography and packaging definitely serve this release well. Your library is substantially lacking without the inclusion of this special album. Stefano Musso should be proud of this prestigious achievement.

Emerald#3 january 1997 (Pennsylvania, Usa)

This reissue coincides with the tenth anniversary of Alio Die´s touchstone album, Suspended Feathers. Stefano Musso, the man behind pseudonym, created ambient music more in touch with its originator Brian Eno´s intentions than that of the concurrent "chill room" variant of ambient - beatless, self-effacing music that is there to be listened to or to be ignored.
However, where as Eno chose to create imagined or "impossible" landscapes, Alio Die could be more specific, integrating easily identifiable natural sounds like running water or trilling birds. As such, he can also claim to have more or less invented "eco[logical] ambient".
Alio Die´s music is vast and organic,slowly expanding, inhaling and exhaling, pulsing quietly with life. And although this is essentially a solo project, with Musso manning the samples, loops,processed tapes and treatments all by himself, he would also seem to begin what has become a long history of collaboration right here. The track "Ruins Garden Drones" incorporates the woodwinds of Gregorio Bardini, while the closing track, "Wings of the Firefall" is a full-blown collaboration with kindred spirit Vidna Obmana (who, coincidentally, released his landmark recording "The River of Appearance" the very same year). The latter, with its opening movement featuring a slightly off-kilter"string section", is emotionally majestic, and the entire track, in common with the rest of the album, is quite simply a thing of great beauty.
Suspended Feathers was originally released in 1996 in a run of 1,000 copies on the Italian luxury label Amplexus, and has been sold out for years. Now another, newly-founded, Italian label, Silentes, does everyone interested in unique cultural utterings a great service by making it available a new, now housed in a simple jewel case, with new art but no other bells and whistles, no additional tracks, remixes or videos.They have made available an affordable version of an absolute classic of its genre.
Stephen Fruitman - Aug 2006

Suspended Feathers (Amplexus, 1995), another peak of Alio Die's art,included the 21-minute Descending Past in whichtiny instances of natural sounds appear in the calm soft soundscape,the exotic, lavish, ocarina-driven Ruins Garden Drones,the cryptic, cosmically fluctuating Time In Absence,the disorienting shifting "images" of Wings Of The Firefall(a collaboration with Vidna Obmana), from lulling accordion-likepatterns to loudly hissing rain sounds to a quasi-symphonic density ofshapeless drones.

Piero Scaruffi


By the grace of Silentes, Alio Die's Suspended Feathers returns, sounding almost like a transmission from another planet or a distant civilization rather than dusted off from the Amplexus vaults, 1996 vintage. This reissue is certainly well-merited for it still resonates as a work of exquisite neo-ritual ambience,which the customary binary epithets of "light" and "dark" fail to do justice to. Stefano Musso's sound artifacts would require for their full textualized mediation (as yet uncoined) synaesthetic equivalents to "lost,""abandoned," "occult." Pieces such as "Descending Past" are draped in an arcane fog of processing that nevertheless somehow allows clear sonic resolution to veiled sounds that seem to hang and float wispily. Drone meister Musso here performs an effortless masterclass, manipulating organic musical material and environmental samples into suggestive solemnities and ceremonials,a minimal blending of almost medieval gothic tone-poetry (the stringed interplay on "Wings of the Firefall") and more contemporary isolationist drone scaping(the frozen expanses of "Time in Absence"). Old skin for new ceremonies.
Alan Lockett


Share on Facebook