Alio Die & Lorenzo Montanà
The Threshold of Beauty CD digi Limited editiion 500 copies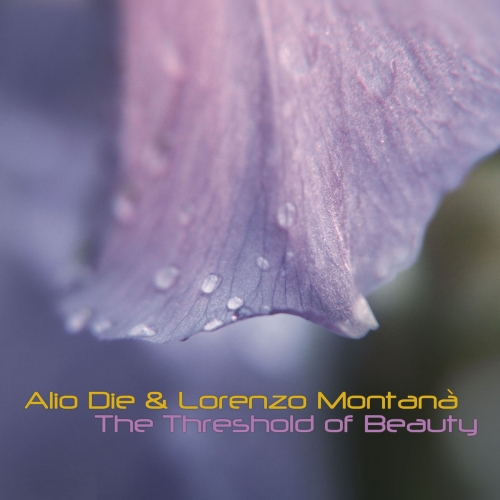 Tracking list:
1.
On the waves of fate - Part 1
2.
The closest place to the soul
3.
Lighthearted expansion return
4.
Dark dhrupad
5.
Vacant lights disclose the shadows08:08
6.
On the waves of fate - Part 2
Alio Die & Lorenzo Montanà - The Threshold of Beauty CD digi (2019)
On their second collaboration, these cult Italian musicians create an hour of meditative dream-infused soundscapes and beatless mystical textures. Following their 2015 Projekt album Holographic Codex, Alio Die (with 65 releases) and Lorenzo Montanà (with 17 releases) come together for six tracks of deep ambient soundscaping, intersecting a potent alchemical brew of pure organic sounds.
The threshold of beauty is a transcendental vision of beauty as an integral part of the cosmos. The connections of the music with nature and human spirituality are mixed in an ineffable picture that create a contemplative frame of mind.
The recordings started with Alio Die performing on a psaltery (an ancient medieval instrument like a dulcimer but played by plucking the strings) augmented with real time electronic improvisations & processing by Lorenzo. The tracks were then edited by Alio Die adding layers, additional effects and loops to complete the expansive ritualistic tapestry.
Undeniably calming and moving, the breathing slows, the mind quiets and opens. As the introspective ambience washes over the listener, a naturalistic dronescape unfolds with alluring aural scenarios of evolving, intimate sounds.
* Alio Die has over 65 releases, 7 on America's Projekt Records and others on his own Hic Sunt Leones label. Montanà recorded 5 collaborations with Pete Namlook on Pete's German FAX label, plus released 12 solo albums with various European imprints.
Release notes:
Limited edition of 500, May 31 2019

---
Let yourself go, snatched by the dark winds gorged with spiritual tinklings and of buzzing woven into the effects that Alio Die breathes into the chords of his fascinating string instrument, the Psaltery. Chthonian voice layers, textures of esoteric atmospheres, some appropriate samplings get added and THE THRESHOLD of BEAUTY invites itself without being noticed and especially without anyone wanting to drive it away from our ears.

The Waves of Fate Part 1 lies down like a breeze from the Orient with its Tibetan essence and its murmurs that make us think irretrievably of this beautiful The Sky of Mind or Deep Breakfast by Ray Lynch. The only differences are that the harmonic essence is evaporated in celestial mists and that we find no source of rhythms in this last album of the duo Alio Die and Lorenzo Montanà. So, we are entitled to a very quiet album, quieter than Holographic Codex, also published on the label Projekt in early 2015. With a little will, we assume that the winds and the muted impulses effects of reverberations, which are more accentuated in a track like The Closest Place to the Soul is a source of life that takes us to the territories of this inner peace. So, it's a perfect album to meditate or receive therapeutic care. We can also put it as background music when we read or to sip a coffee the neurons in the clouds. To sleep? Not really sure! Because the sound fauna, the different samplings and especially these moments of gradation in the layers of voices and its arrangements can bring our senses on alert. The Closest Place to the Soul is slowly becoming a thin line of serenity that guides us to a very meditative last quarter. Lighthearted Expansion Return offers a symphony of reverberations of winds that reach a velocity that is close to the breezes of Purgatory. The music evolves in three sections which are always a little more intense and darker. Dark Dhrupad is even darker with a mixture of Luciferian murmurs that sing a dubious incantation. The tinkles that adorn this dark movement act like water pearls that ooze on the walls of a cave whose outcome is a more ethereal finale. In a more celestial role, Vacant Lights Disclose the Shadows doesn't spare our level of tranquility with peaks of intensity that we would have liked to overflow into phases of rhythms. But THE THRESHOLD of BEAUTY is without rhythms. It's therefore in a total quietude that On the Waves of Fate Part 2 where chords of what seems to be a Sitar and Psalterion tinkle and resonate without harmonic canvas like dreams thrown by these stringed instruments in these winds that hide voices and other effects of reverberations, of drones which are the jailers of a musical universe that passes without being noticed but that one remembers once it has passed.
Sylvain Lupari (July1st, 2019) SynthSequences.com

---

Share on Facebook