Alio Die
Unfathomable convergence - Cd Digipack ltd 300 copies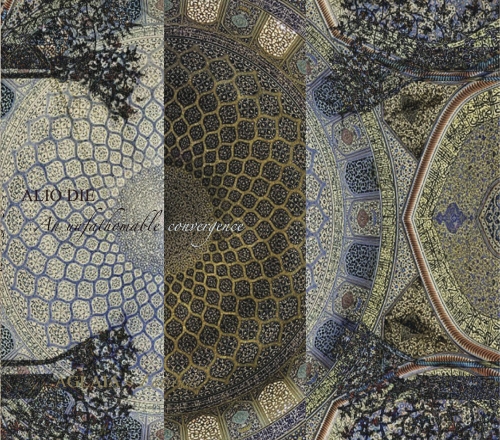 Tracking List:
1.
Una Insondabile Convergenza
50:40
2.Visuale Estrema dell'Esistenza
12:52
Composed and performed by Stefano Musso (BMI)
Recorded in Oulu (Finland) and Lunae Studio (Tuscany)
between july 2011 and december 2015
Alio Die: drones & loops, field recordings
with:
Lingua Fungi: kantele, organ, treatments
Aglaia: electronics and effects.
Enten Hitti: percussions, oboe, voice.
Artwork by Hic Sunt Leones.
---
In the same tenor as his past masterworks "An Unfathomable Convergence", 2016, simplifies to the point of sophistication its elements, structures and their seemingly aleatory slow paced movement.
Alio Die (field recordings, drones & loops) surrounds himself again with the same collaborators of his parallel release "Imaginal Symmetry " , Lingua Fungi (kantele, organ & treatments) , Aglaia (electronics and effects) plus the addition of Enten Hitti (percussions, oboe & voice).
Less zither driven (by much) than its twin release, this work conveys 4 years of recordings into a 3 track album which consists of one 50+-min. dronescape, a 13 min. one and a 6:30 min. extract of the lengthier first track.
A perfectly balanced showcase in constant mutation, charged with deep-dream like highlights which undergo the structuring, restructuring and deconstruction of its expandable musical environments , worked throughly to millisecond detail without no kind of frenzy nor obsession.
Beauty happens by the constant evolution and combination of its flowing particles its uprising and decline as they participate the same in building mirror ones, therefore the ride is creative and rich as intriguing.
(AdmireArt / progarchives.com)

Share on Facebook