Runes Order
The land of silence Cd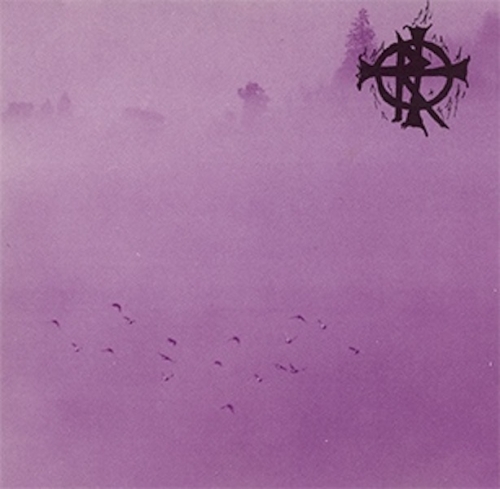 Tracks:
01 The blade (I see the only way)
02 Theme 1
03 Ombre
04 Metamophosi
05 Tears in the snow*
06 Free (for Romix)
07 New golden age (is coming)*
08 The Land of Silence*
09 White planet*
10 Addio
Composed, recorded and performed at Odal Studio between winter 93 and summer 94 on a 4 tracks.
Recorded by Claudio Dondo & Daniele Magarelli except * composed and performed by Claudio Dondo 93/94 drums on 09 by Giancarlo Marotta.
Vocals performance on 07 by Pat.
Word by Quest & Dondo.
Voice on 09 by Andrea Campo.
All other femal voices by Paola Magarelli.
Mixed at Live Studio Borzoli (thanks to Maurizio & Paolo) 07/10/94.
01,02,03,04,10 from hate 007 k7 "La seduzione del Silenzio"
06 from hate 008 k7 "Dawn of new past".
08 from I.D. Germania Compilation "New Aeon Symbols".
Thanks to: Romix, Paola & Ylian, Campo (for teck. support), Otello, Stelvio & Simon, A. Chimenti, Quex, Furfaro, L'Incubo Luigi, Giampaolo, Corbelli, A. Papa, A. Lutriani, Fulvio & Paolo Neri, M. Valeri, Roberto Cagnoli, Luca & Pat, Massimo & Cristina, Cinzia, Forgotten blood.
Cover photo by: Forgotten blood "Os passaros a gelar no prateado do orvalho"
Editing: 1995
The land of silence (1995)


Ci vogliono molti ascolti per cogliere l'essenza di questo disco, foriero di messaggi e visioni inquietanti. La musica, tesa e affilata, rivela gia' nelle timbriche e nella struttura ritmica un carattere sinistro ed arcano, quasi l'urgenza di comunicare tensioni interiori e malinconie universali. Suggestivo il tema di "Ombre", epico lo svolgimento di "Metamorfosi", dalle ariose e fiabesche tastiere, schulziana (anche se Dondo non sara' d'accordo) la lunga "Free", semplice e di effetto "The land of silence", gia' comparsa in una cassetta ad edizione limitata,ciclica e glaciale "White planet", per voce ed effetti elettronici, decisamente esoterica "Addio", che chiude con uno strano connubio di respiri umani e tocchi strumentali. Un disco che presenta un artista alla ricerca di un'identita' e di una via da seguire, diverso da quello di "Winter"; a questo punto aspetto la sua prossima mossa. Molto bella la copertina, decisamente azzeccata.
Gianluigi Gasparetti / Deep Listenings winter 1995

The Land of Silence
A new species of free spirits will come,
strengthenrd in war, in solitude,
in great danger;
spirits who will know the wind,
the ice, the snow of hight mountains
and will be able to measure
with serene eye
the entire depth of abyss...
spirits who will free us
of the willing of nothing,
giving back the earth his aim
and the men their hopes.
Share on Facebook