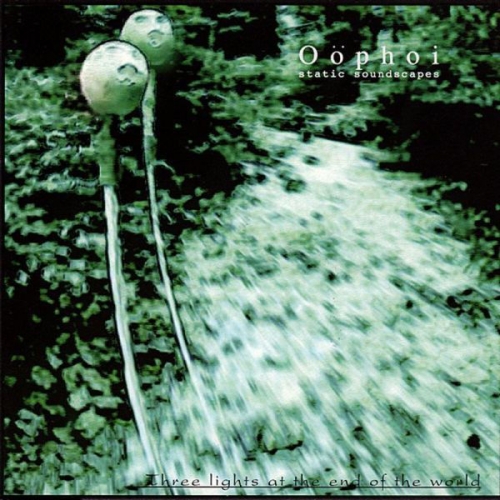 Tracks: 01 Floating through the gates of time
02 Space forest part 1: distant monastery
03 Cave ritual
04 The chamber of dreams (dedicated to Andrej Tarkovski)
05 Space forest part 2:
a) three light at the end of the world
b) infinite skies / The final voyage
Oophoi: electronics, samples, lakota flutes, voice, waterphone, processed natural sounds, tibetan singing bowls, ritual cymbals , conch shells, woodchimes.
Luna: vocals and whispers on track 05
Alio Die: additional samples on track 03
Recorded directly on DAT, no overdubs.
---
Il primo cd di questo progetto italiano di musica elettronica / cosmica.

Ricevo dall'Italia un pacchettodi cose da recensire per Deep Listenings; mi colpisce subito una bellissima copertina cheporta un nome stranissimo e sconosciuto- Oophoi- e un titolo tanto misterioso daspingermi subito all'ascolto. Subito una potente spirale elettronica scandagliala mia spina dorsale: "Floating through the gates of time" e' cosmicmusic profonda che avvolge con un impeto raro e contiene le voci e i rumori dialieni in volo. Un'incredibile partenza. Il secondo brano, "Space forestpart 1: distant monastery", e' una suite di circa 50 minuti divisa in dueparti (la seconda chiude il disco) che descrive una foresta dove uccelli dalcanto stranissimo coabitano con rumori misteriosi; sulla minimale piattaformasonora si innestano meravigliosi e dissonanti flauti Lakota che mettono ibrividi, e, ad un certo punto, le percussioni e le voci di monaci in preghiera,che estendono il senso di soprannaturale. Non sembra una foresta di questaterra, piuttosto sembra una foresta in viaggio nello spazio, con destinazioneignota. "Space forest" e' una scia di suoni che si stratificano, checercano un'interlocutore, che si proiettano nell'etere, "un monumentalelavoro di ambient rituale che illumina le propaggini di un mondo di profondameditazione", come scrive a ragione Stefano Musso, produttore del Cd, nellenote di accompagnamento. Lo stesso Musso, come Alio Die, partecipa in "Caveritual" con campionamenti di contorno: e' un brano con percussioni tribali,ronzii elettronici subliminali, voci trattate, un rito iniziatico verso un mondoremoto. Irresistibile e commovente la melodia di "The chamber of dreams",loop di suoni struggenti e ancora di volatili sconosciuti e inquietanti dedicatoal grande regista russo Andrej Tarkovski; peccato che il brano sia corto, avreipotuto ascoltarlo per ore. Con la seconda parte di "Space forest" ilsuono conduce verso uno stato naturale di estasi: una base elettronica ipnotica,da sleep concert, suoni di tibetan bowls, cymbals e flauti, e un meravigliosorichiamo di un waterphone che insiste in tre note che sono come un segnale dalcosmo, una preghiera acustica che mi ha ricordato"incontri ravvicinati delterzo tipo". Questa magica suite senza tempo fa di "Three lights atthe end of the word" un concept album notevolissimo, una sorpresa ed unarivelazione, soprattutto se pensiamo che e' l'opera prima di un non-musicista.
BrianSimorgh / Deep Listenings spring summer 1996