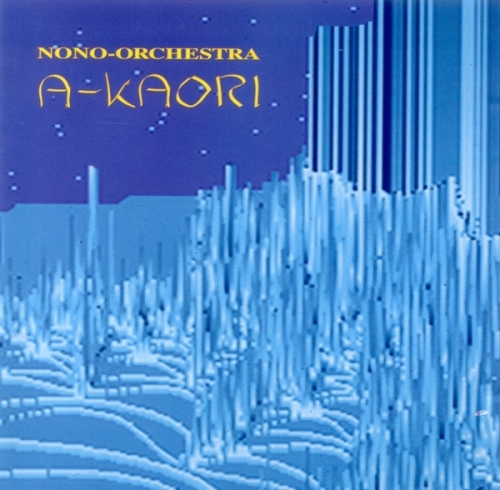 ... il silenzio nel suono...
Tracks:
01 A-Kaori
02 Dajjall
Up-Right, Bow-Chime, Glass-Harp are the Sonoruos Sculptured played by:
Mani Reißer, Rick Rummler, Klaus Wiese, Marc Leistikow
Special Thanks to Ted de Jong for his tabla on "A-Kaori"
---
A-Kaori
Two long meditative / obscure tracks from these masters of esoteric music done with sonorous sculptures resonances.

The members of Nono-Orchestra use what appear to be enormous sections of sheet metal formed into resonant instruments which make pluritimbral vibrations and layers of very low frequencies noise.
This is very different than other deep noise projects. Often electronic artists create low noise using electronics and feedback but the sound here are formed much in the same principle of acoustic music. Various members of this quartet actually employ bows to create the vibrations of the metal in much the same way that a string musician would play his instrument. The result is an original and audibly vibrant low noise experience. Very textured, fascinating.

Eskhatos Issue #2 Portland,Oregon

"A-Kaori" est compose' de deux pieces d'une demi-heure; la duree etant ici essentielle pour istaller l'auditeur dans les ambiances esoterico-meditatives concoctees par cet orchestre de metal vibrant. La lutherie se resume en effect ici a' de grandes plaques de metal faconnees de maniere a' generer de longs drones par frottements, mouvements d'archets,et autres traitements. Donc pas d'electronique, comme on pourrait le croire aucours d'une ecoute non prealablement documentee sur le processus de creation.Cette illusion est particulierement flagrante sur la premiere piece, de loin laplus obscure et la plus elaboree des deux. La seconde piece intitulee "Dajjall"est plus concentree sur la texture, et la palette de grincements qui peuventetre extraits des instruments.

Patric Vancayezeele / Revue et Corrige'e#27 mars 1996