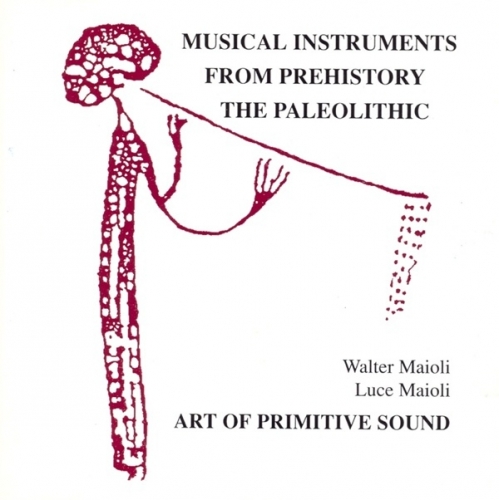 L'approccio e' rigorosamente filologico; uno studio della timbrica e della effettiva musicalita' di questi "strumenti" in ambienti naturali ..°..
Tracks:
01 The Dance of Leaves
02 Flautes
A. Aerial Harmonics
B. Curved Melodies
C. In Flight
03 Eagle bone for the Ghost dance
04 Flying Rhombs
A. Horn (Africa)
B. Bamboo (Nias)
C. Wood (India)
D. Wood (Australia)
05 The Horn, the Tortoise, the Bow the Flintstone
06 Sonorous Stones in the Cave
Basura cave in Toirano, Savona, Italy
A. Stactite Gong
B. the "Organ"
07 River Stones
08 Vegetable Seeds: jungle Voices
09 The spirits of the Marshed
10 Sea Lamguage, Shells
11 Amazonian Finds
A. River Shells
B. Tucan Beaks
C. Coleopter Eleters
Completely acoustics natural sounds. Appropriate listening requires adjusting the volume according to the pieces. Sound are recorded in a "natural" setting, that is, using the acoustic reverberations of particular environments with cole-up and far away sounds. Insert "Loudness" (low frequency accentuator), equalized, etc., according to the HiFi equipment, the listening environment and the sound quality desired.
Musical instruments from prehistory: upper paleolithic
"Art of Primitive Sound"
Reserch and musical composition by Walter Maioli
Performes
Walter Maioli - in all tracks
Patricia Mayer - tracks 01-03-05-09-10
Luce Maioli - tracks 01-03-08-09
S.W. Nirodh - tracks 08-09
Asaga - track 08
Luca Migliaccio - track 08
Giuliano Rosa - tracks 01-09-10
The istruments were collected and assembled by Walter Maioli with the collaboration and contribution of Pia, Antonio Peticov, Fred Gales, Gaetano Roi, Elena and Luce Maioli, Patricia Mayer, Nirodh, Luca Migliaccio, Poppi Crippa, Italo Bertolasi, Pietro "Pit" Piccinelli, Julian NunaKi, Tukanayare, Yoshi Oida.
---
Musical instrument from prehistory
Musical instrument from prehistory
Viaggiatore, ricercatore, archeologo musicale, Walter Maioli e' gia' notoin ambienti artistici per le collaborazioni con gli Aktuala e Futuro Antico, edespone in questo Cd la sua collezione di strumenti musicali provenienti daiquattro angoli della Terra e da tempi remoti.
Parlare di musica non e' appropriato: siamo infatti di fronte ad una raccolta di suoni e situazioni allimite del credibile, di inestimabile valore scientifico, che finisce perdiventare espressione artistica superlativa nella sua apparente eccentricita'.Maioli, con l'aiuto della figlia Luce, percuote rocce e vegetali, soffia inconchiglie e flauti di bamboo, accarezza le stalattiti di una caverna, esplora addirittura il suono delle elitre di un insetto. L'approccio e' rigorosamente filologico; non c'e' sperimentazione gratuita, ma uno studio della timbrica e della effettiva musicalita' di questi "strumenti" in ambienti naturali, che l'eccellente registrazione consente di apprezzare in ogni particolare.
Un magnifico libretto con informazioni dettagliate, foto e disegni,accompagna questo prezioso Cd, ricco di suoni che possono risultare alieni mache fanno parte della nostra storia e che hanno accompagnato l'Uomo dallecaverne al modulo lunare. Acquistare questo disco significa esaudire il desiderio di ognuno di noi: viaggiare con la macchina del Tempo. Walter Maioli deve averne scoperta una.
Gianluigi Gasparetti / Deep Listenings autumn 1993

Walter& Luce Maioli "Sophisticated sound exhibition displaying instruments (from10,000 to 40,000 years ago) in natural acoustic surrounding. An impeccably recorded survey, tracing music making by primitive people in the endless cycles of night and day.
PBE CALIFORNIA