Alio Die & Parallel Worlds
Circo Divino HSL055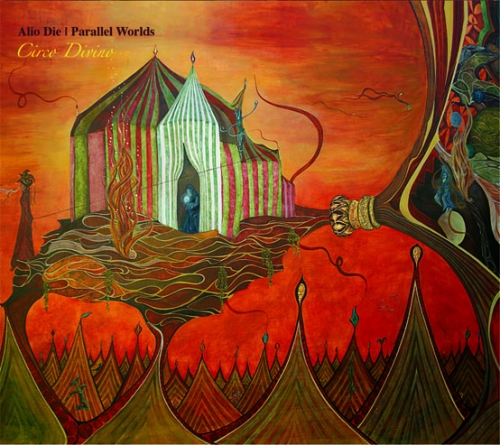 Se amate perdere la cognizione del tempo e ritrovarvi in un paese fantastico non dubitate oltre, misurate la vostra capacità di immersione nell'oceano elettronico.
Tracks:
1 Lost Fractales
2 Circo Divino
3 Nuvole di Palissandro
4 Sorinel
5 Electrostatic Forest
6 Slide of Grace
All tracks composed and produced by Bakis Sirros and Stefano Musso (BMI) between 2008 and 2009, in Milan, Italy and Athens, Greece.
Parallel Worlds : Doepfer A100, Serge, AS Integrator, Metalbox/CGS modulars, 4-Voice, VCS3, String machines, Tape Echoes, Tone & CV generators, wave shapers and modifiers.
Alio Die: Drones and Loops, Zither, Carillon, Effects and Treatments.
Voice and effects on tracks 1,3,4 by India Czajkowska recorded in Verezzi, Italy.
Mastering by Stefano Musso at Temple Studio, Milan.
Cover pictures by Romanie Sànchez
www.romanie.net
Artwork by Sara Luciani for Hic Sunt Leones.
www.saraluciani.com
Bakis wishes to thank: Lea, Family, John Sirros, India, Ingo, Steve, Ian, iDon, Panagiotis, Maria, Dieter, Bob, Rex, Michael and all others i may have forgotten.
www.aliodie.com
www.parallel-worlds-music.com
www.myspace.com/parallelworldsmusic
Circo Divino (2010)
Questa prova a quattro mani di Alio Die e Parallel Worlds conquista già nel titolo:"Circo Divino".
Un affresco di suggestioni oniriche che rinvia ai sentieri della cosmic-music e della meditazione trascendente, compiendosi in sei atti di pura magia acustica, talora sedotti dal canto iridato di India Czajkowska.
Sembra quasi uno squarcio della Bhagavad-Gita materializzatosi nell'alchimia della trasposizione sonora, in questo caso assai ricca di timbri analogici inusitati e di flussi ritmici dilatati, di rumori emblematici e di linguaggi misteriosi che paiono provenire dalle spire di epoche leggendarie madide di umori mantrico/sacrali.
"Circo Divino" ha lo spleen dell'ascesi mistica che richiede d'essere empatizzata lungo il percorso, frase dopo frase, sino alle massime derive estreme della proiezione estatica.
Aldo Chimenti, Rockerilla - luglio/agosto 2010

Un bellissimo digipack e l'artwork di Romanie Sanchez introducono ai miei occhi una delle release dell'anno per il sottoscritto. I frequentatori di queste pagine sapranno bene della stima che ripongo nei confronti di Bakis Sirros, moderatore di una delle più celebri comunità di utenti del Doepfer A100 e abile tessitore di trame elettroniche con i Parallel Worlds di cui abbiamo recensito la summa discografica. 'Circo Divino' vede il compositore greco unire le forze con Stefano Musso conosciuto ai più col nome di Alio Die tramite il quale, dagli albori dei nineties, ha pubblicato mirabili pagine di elettronica sperimentale. La collaborazione tra i due si avvale dell'eterea voce della cantante polacca India Czajkowska e in 'Lost Fractales' – direi il manifesto di questa release- 'Nuvole Di Palissandro' e 'Sorinel' il cerchio si chiude mostrando i superbi risultati raggiunti. A colpire è soprattutto la capacità della strumentazione modulare di Bakis Sirros di integrarsi alla perfezione con la morbosità di drone e loop evocati da Stefano Musso. Se amate perdere la cognizione del tempo e ritrovarvi in un paese fantastico non dubitate oltre, fate vostro 'Circo Divino' e misurate la vostra capacità di immersione nell'oceano elettronico.
Divine, dagheisha.com

this is the first collaboration by ambient master Alio Die with soundscape creator Parallel Worlds.
the unique sound achieved could be described as a hybrid sonic world, made out of bouncing electrons and air vibrations.
the modular machines of Parallel Worlds are merged with the acoustic instrumentation and drones of Alio Die, joined by the ethereal voice of the Polish vocalist/composer India Czajkowska, resulting in a surreal, yet down to earth, listening experience.
The compositions, being, at times, minimal and calm and, at other times, full of mystical darkness and microsound elements, take the listener into a place were mental and physical boundaries have no need to exist.
(Label press)
Other available Cds by this artist:
Parallel Worlds - Obsessive Surrealism (CD, Album, Ltd)
Parallel Worlds - Shade (CD, Album, Ltd)
Alio Die | Parallel Worlds - Circo Divino (LP, Ltd)

Share on Facebook