Aglaia
Nights in Nubiland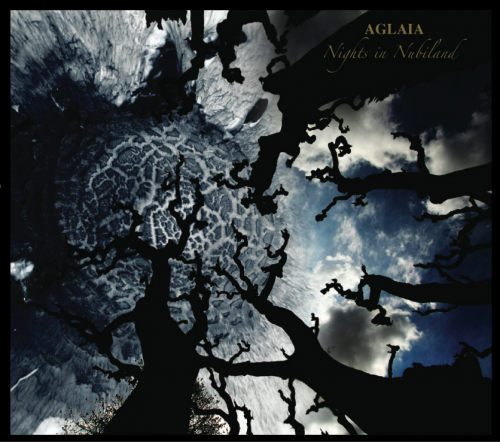 "new spontaneous forms.. imaginary gestures, that by sensibility and mystery expand the sound language.."
Tracking list:
1 : After midnight
2 : Hyperborea
3 : Milosis
4 : Centrum terrae
5 : Celephais
6 : Tupia
7 : Amneran land
8 : Aurora



Nights in Nubiland
:
Music composed and played by Gino Fioravanti
To Lu: thanks for your support
Recordered in Lissone between June 2010 and February 2011
Aglaiasounds: Gino Fioravanti concept and elettronics, Gianluigi Toso editing
Nights in nubiland
is a trip in fantastic territories. Nubiland is is the place of the Clouds, where the landscapes are attended between midnight and the dawn.. before the sunrise.
This new album start a new chapter for
Aglaia
. Pure electronics, new sounds, but above all we feel a new compositive spirit, that connect the therapeutic music of the beginning into new spontaneous forms.. imaginary gestures, that without lost the sensibility and the mystery of the first compositions, expand the language into the personal expression of an art form.
(Label press)
'Tis night: now do all gushing fountains speak louder.
And my soul also is a gushing fountain.
'Tis night: now only do all songs of the loving ones awake.
And my soul also is the song of a loving one.
F. Nietzsche

Review on Sow the Spores

When I checked out Alio Die for the first time I also got to know about his own label Hic Sunt Leones.Alio Die mostly releases his own work on this label but also makes roomfor projects that are related to him in some way or another. Since he doesn't do this too often there are only a few other artists to be found in his currently large catalogue. I came across Aglaia and decided to check out some of their albums. They've now become one of my favourite Ambient artists ever. Their style and sound is definitely something else and I can totally feel why HSL would support an artist like that. Aglaia are known for their organic, hypnotizing and soothing soundscapes and long drawn out songs. It's hard to describe them at all since they do vary a lot between albums and collaborations.
Nights In Nubiland is, according to the description found on the HSL website, fully electronic and no acoustic sounds or instruments have been used. It has a huge impact on their sound, but this is not to be seen as a limitation. They created a new path for themselves with thisalbum and once again they show what they're capable of. This album must be, in my eyes, the most complete work I've heard yet from Aglaia. On their previous outputs it seemed to me that they were looking for a specific sound or direction but were still not really able to find it. On Nights In Nubiland they managed to channel all those directions and ideas into one defining creation.
Compared to the rest of their work this album has a darker aura. It reminded me most of Mondi Sensibili, but more tranquil and less 'full'. Of course, the title says it all. Not dark in the negative sense, but nightly. Daylight has faded and darkness has taken it's place. While albums like Three Organic Experiences and Reveberant Skies were quite'present', so to speak, Nights In Nubiland remains in the background, slowly drifting along. More minimal in nature and with shorter songs,this album manages to keep the listener intrigued and immerged into the sound. This development in their sound is something I can only be happy about. They're great at creating long soundscapes, but even better at creating shorter pieces. They've already proven that with Reveberant Skies and Naked Movements.
In short, Nights In Nubiland is in my opinion miles above their other work and I can't wait what they will bring us next. I wouldn't go as far as calling this a milestone in Ambient music but it comes damn close. This album really defines the term 'organic Ambient'. Highly recommended.
Netherkhert/Sporu.wordpress.com

Gino Fioravanti and Gianluigi Toso, the two Aglaia's sonic collagists, deliver on Hic Sunt Leones their 8th solo album, released at the same time with their celebrated "Vayu Rouah" collaboration with Alio Die. Aglaia returns again with their truly unique motionless sound wonderfully capturing the essence of fantastic late night journey through the woodlands, their pure electronic soundscapes are very personal, intimate and deeply evocative. "After Midnight" and "Hyperborea" are first two pieces with tranquilly circling ambience, perfectly setting meditative atmosphere for this idyllic and picturesque night trip. "Milosis" is enriched with few glitchy, hissy and strange sounds, with some of them reminiscent of voices- or cicadas-like sounds and with its sound painting it evokes the magic of nocturnal wildlife. "Centrum Terrae" slips into wonderfully drifting and rotating ethereal mode, just like the following "Celephais", with slightly gloomier touch, but again a truly fantabulous travel into the dreamlands!!! Highly imaginative "Tupia" floats in the more environmental terrain, but remaining very deep and dark, definitely another standout piece here! "Amneran Land" sounds lighter with echoed watery sounds and even if quite cavernous, it's still warmly organic and breathing, one of the most tranquil and splendid passages of the album. "Aurora" brings the album at its end into more mysterious, but dawn panoramic sceneries. "Nights In Nubiland" is richly and distinctively sculpted sonic travelogue displaying refined and infinite artistry of these admired and talented Italians. And on the top of that, Aglaia's gracious soundscapes are beautifully exhibit by 6-panel digipak containing stunning photographies by Sara Luciani, Veronica Marioli and Alberto Mari. Album "Nights In Nubiland" is magnificently natural and captivating listening experience, it's fully rewarding if you explore all its hidden treasures!!!
Richard Gürtler (Sep 24, 2011, Bratislava, Slovakia)

Share on Facebook