Aglaia
Mondi Sensibili HSL 036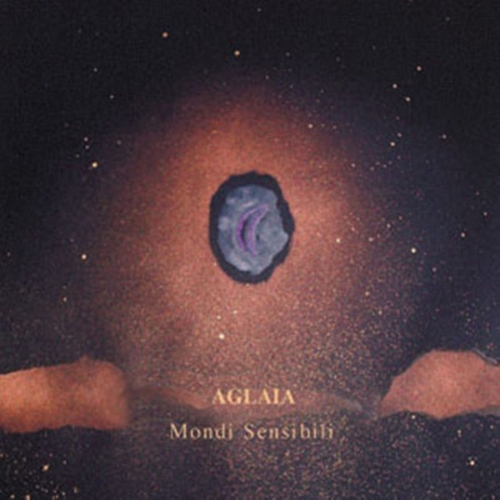 Along suite of three gorgeous pieces,entirely lacking any gravitationalpull.Like the ambient version of an Indian raga for specific times of the day and states of mind
Tracks: 01 Mercurius volatile
02 Nigredo
03 Shanti mudra
All tracks composed and mixed between February and April 2006.
AGLAIA :
Fioravanti Gino: concept and sound programming on Roland jd 800.
Gianluigi Toso: editing, treatments and loops programming.
Artwork by Sara Luciani for Hic Sunt Leones.
All Paintings by Alessandro Savelli
Thanks to: Claudio Ranalli, Attilio Tripodi, Stefano Musso.
Mondi sensibili (2006)
Aglaia - named after one of the Greek 'graces' that tends to earthly vegetation - is a brand-new name to me, though they already have a couple of albums under their belt and available from the same label. Itis comprised of Fioravanti Gino and Gianluigi Toso, who are responsible for"concept and sound programming on Roland jd 800" and "editing,treatments and loops programming", respectively. I hardly know what that means and/or does. However, I do know beautifully-executed ambient music when I hear it, and this is it. Along suite of three gorgeous pieces, each roughly twenty minutes long and all entirely lacking any gravitational pull. Each seems like the ambient version ofan Indian raga for specific times of the day and states of mind.
"Mercurius Volatile",despite its title, is serenity itself, glimmers of dawning stars on droplets of water on distant planets. Its ethereal nature is succeeded by the somehow more earthen "Nigredo", with its wisps of flute appearing and then disappearing amongst the flora of the enchanted forest of some midsummer night´s dream.
Finally,"Shanti Mudra" makes the Subcontinental connection explicit both intitle and lazily-bowed Indian strings, insinuating themselves into a placid atmosphere of morning mist rising off a broad but quietly flowing river.A lovely work.
StephenFruitman / Sonomu.net
Link to other sections' contents