Aglaia
Sacred Waters HSL 028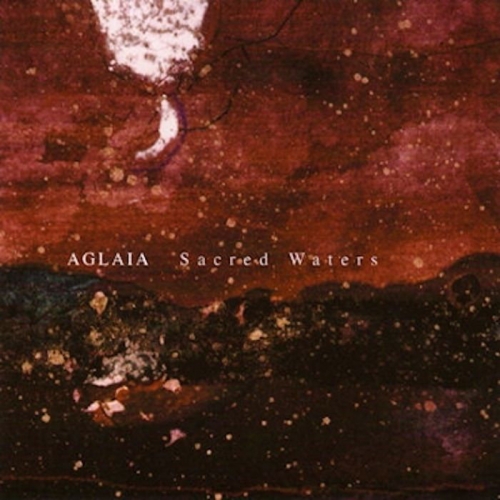 Light breaks where no sun shines; where no sea runs, the waters of the heart push in their tides; and, ghosts with glow-worms in their heads, the things of light file throught the flesh where no flesh decks the bones.
From: Light breaks where no sun shines
by Dylan Thomas
Tracks:
01

Sacred waters
02 Under the earth the loud river walks
03

The sea hides his secret selves
Composed and recorded in september 2003
Gino Fioravanti: concept, electronics
Gianluigi Toso: editing, samples
Remastered by Claudio Ranalli
All tracks copyright ©2004 SIAE
All paints by Alessandro Savelli.
Cover paint: 'Notturno' 2002 (30x43) T.m. e collage su carta
Back paint: 'Orizzonte verso la notte' 2002 (29,5x43) T.m. e collage su carta
Graphics by Hic Sunt Leones
Sacred Waters (2004)
The textural ambient project Aglaia have finally released their second album.
After a very good feedback from the first CD "Three Organic Experiences","Sacred Waters" is the new offertoires to introduce more and more in the amniotic sound dimension, of their music.
The layers's quality become more deep here.. in breathing circles where processed voices and acoustic instruments, appear to be evocative and fragmented like in a dream, or just like what an echo can play with sounds in an open landscape, coming from far distances with the wind.
The electronics/analog sounds are waves of flowing energy with a powerful relaxing quality, and behind them you can hear sometimes an indian flavour like an incense stick burning.
By the way it's not possible at all to explain and describe the originality of this music, his poetry and his psychoacoustic properties, but if you start to listen, it invites you to stay inside yourself, in the motionless, and timeless space that induce, bathing in the Sacred Waters of the infinite ocean of peace and inspiration.
Cover paints by Alessandro Savelli, graphics by Hic Sunt Leones.