Nick Parkin
Descent HSL 013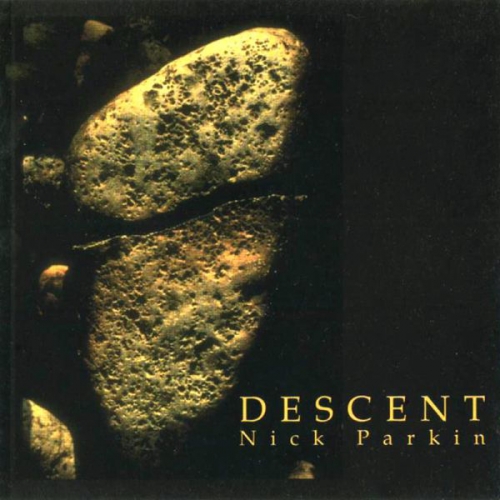 A meditative obscure travel with acoustic and electronic treated sounds. First solo album from a member of Tuu and Stillpoint project
..°.. ..°..
Tracks: 01 Night
02 Migration
03 Shoals
04 Dusk Crossing
05 Snake Hymn
06 Underworld
07 Heart of Stone
08 Etheric Memory
09 Passage
Nick Parkin : Bowed and Plucked Strings, Keyboards, Electronics, Flutes, Gongs, Percussions, and Manipulated Stones.
All compositions, Treatments, Production, Recording and Mixing , Nick Parkin London 1996
Photos by Nick Parkin
Graphics by Hic Sunt Leones 1997.
Descent
Ameditative obscure travel with acoustic and electronic treated sounds.First solo album from a member of Tuu and Stillpoint project.

NICK PARKIN n'est sûrement pas un inconnu pour les amateurs de TUUpuisqu'ila collaboré au dernier album "mesh" en tant que flûtiste ainsiqu'auprojet Stillpoint. Sur son premier album solo, il n'y abizarrement que peu d'instrumentsà vent. La tonalité générale estévidemment ambiante, pas vraiment ethnique,mais plutôt atmosphérique(très !) avec un caractère expérimental voireconcret assez étonnant(frottement de pierres notamment). "descent"est très agréable à écoutermême s'il demandera une écoute attentive voireactive, son côté calmeétant redoutable sur les esprits endormis (vécu !).Une réussite de pluspour Hic Sunt Leones, tout à fait dans la lignée de ses productions précédentes.
HARMONIE / Jean-Marc Boucher autumn 1999


Other CDs available by this artist:
Alio Die & Nick Parkin - Aquam Metallicam (CD)
Share on Facebook
Link to other sections' contents