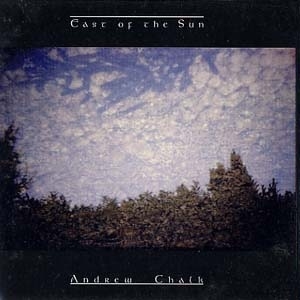 Tracks: 01 Winter Arc 49'11"
02 The Plain 13'42"
Winter Arc was recorded at Flamborough Head and on location during 1993-94,
Mixed at I.C. Studio, York, October 1994.
The Plain was recorded at I.C. Studio, September 1996.
Produced by Andrew Chalk.
Engineer Colin Potter.
Graphics by Hic Sunt Leones 1997.
---
I cannot tell you how many times this record has been played at The Agency, since the first edition of this came out well over a decade ago.
Originally published as a cassette in 1994 through the Ora imprint, East Of The Sun got its first digital transcription in 1997 on Hic Sunt Leones, who had convinced Andrew Chalk to remix East Of The Sun into a single track and add a bonus track tacked on at the end. While Mr. Chalk agreed to this proposition, his decisions to were ones that he was ultimately not happy with. As the first CD version of East Of The Sun has been out of print for many years now, Mr. Chalk has graciously reissued the album through his Faraway Press. However, it should be noted that the version on Faraway Press is a remastering of what was found on the original cassette. While we are being honest in telling you that the Hic Sunt Leones version has extra material not found here, we must insist on stating that East Of The Sun is one of the closest recordings to audio perfection we have encountered. We mean that in all sincerity and without any ounce of hyperbole.

Sublime and beautiful, East Of The Sun is also shrouded in a sense of mystery that ultimately makes it compelling. Part of the mystery is in the source material for the album: is is bass guitar? is it a gong? or is it both? Whatever is the fundamental drone-making material is inexplicable, compounded by a perfecting a minimalist strategy where so few have succeeded: in turning the most subtle gesture into a transcendent statement. What happens is a drone echoing against nature, resounding with the grandeur of the heavens speaking. East Of The Sun is one of many masterpieces crafted by Andrew Chalk, and we are delighted it is available again for the discerning public.
helenscarsdale.com


"
Verydark without becoming unbearably cold, East Of The Sun is a constantbloom of nocturnal frequencies, whose origins may be thoroughly blurredbass guitar or possibly some resonant artifact from Chalk's acousticwork in Organum. Regardless, the resultant drones drift with nobeginning and no end, merely rippling, reflecting, and turning uponthemselves in a perpetual, very slow motion turbulence. Leaves tumblingin autumnal twilight. Fog spilling over coastal hills. Moonlighttickling the agitated surface of a pond. Any of these organicreferences for meditation on simplicity to reach the sublime and theprofound could easily apply to Chalk's East Of The Sun. Not justrecommended, this is required listening."
- Aquarius Records