Tuu
Invocation HSL 009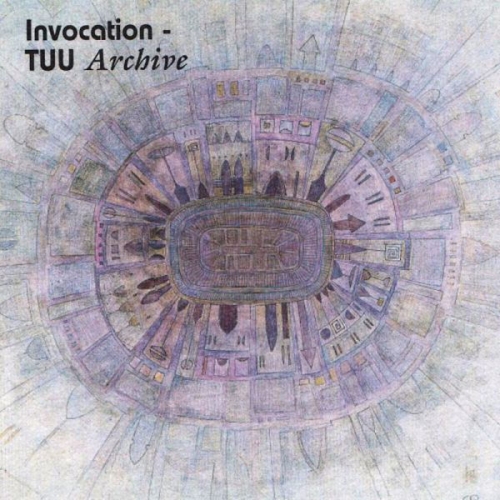 Another trip to ambient paradise on exotic percussion, spacey keyboards, dreamy flute and a whole array of strange sounding ethnic instruments
..°..
Tracks: 01 Invocation 02 High Places 03 Submerged/Tides 04 Waiting for the Sun King 05 Breath 06 Before the Gates 07 Beneath the Sands 08 Distant Dreaming 09 Present in the falling rain 10 Before One Thousand Years Martin Franklin: Ghatam, percussion, synthesiser and drones Richard Clare. Flutes and pipes Ramesh Singh: Tablas, voice and harmonium (on 02, 05 and 08) Mykl O'Dempsey: Synthesiser, voice (on 02) Most of the music on this CD was recorded on four-track, between August 1989 - January 1990 and originally issued as a cassette only release. "Beneath the Sand" and "Present in the falling rain" were composed for the Level Five Theatre Company's production of "The Moonstone" January 1995. Remastered and mixed at Body Music Studio, Windsor, England during March/April 1995 Engineered by Jan Bidgood Mixed by Martin Franklin Tracks composed by Fralklin / Clare (01, 08), Franklin / O'Dempsey (02), Franklin (03, 04, 05, 06, 07, 09, 10) All compositions MCPS/PRS Paintings by Giorgio Guarini Photo on page 4 by Sergio Cacherano

Invocation
From the mitical "Invocation" tape we offer a totally remastered music with some new tracks. Like usually TUU's music have an unique touch:ghatam, tablas, flutes and pipes, harmonium and synthesiser meet togheter a magish language.

Tuu is a name regular CW readers should be familiar with: it's a British ambient trio from the Windsor / Slough area who debuted at the end of 1992 with their fantastic"One thousand years", voted as best psychedelic album of 1993 by Crohinga Well (and recently reissued by the band on their own label) in those days, Tuu still was Martin Franklin (gatham, pot drums, bowls and gongs), Mykl O'Dempsey (synthesizer, samples) and Richard Clare (flutes, pan pipes). The Latter has been replaced by Rebecca Lublinski (she can be heard on the "allour ancestors" cd of 1994). "Invocation" is the first work Tuu ever recorded (between 1989 and 1990) and the result was one privately released cassette album. The Italian Hic Sunt Leones label rereleased the tape as a tentrack CD (48 mins.) and that's a good thing too because some of Tuu's finest moments are on this collection of early material. Tabla and harmonium player Ramesh Singh was Tuu's fourth member then, though this had no basic influence on Tuu's music: "Invocation" is just another trip to ambient paradise on exotic percussion, spacey keyboards, dreamy flute and a whole array of strange sounding ethnic instruments. Like any other Tuu album,this is a voyage in timeto a period when the Earth was still largely covered with unspoiled tropical forests. A fantastic ambient/psychedelic album, recomended to fans of Jon Hassell, Jorge Reyes and Steve Roach. C.W.

La seule evocation de TUU est toujours annonciatrice d'un orient suave et reve'. C'est dire si le groupe a suau cours de ses deux premiere albums imposer un univers musical reconnaisable des les premiere notes. A l'instar d'un O Yuki Conjugate par example, TUU possede une forte identite' forgee par la fascination que peuvent exercer les esthetiques musicales orientales sur des musiciens-explorateurs occidentaux. Dece metissage nait une nouvelle musique ibride, ou fusionnent avec boheur percussions, ghatam, flutes, tablas et autres instruments natifsde contre esexotiques, avec le sonorites synthetiques de notre lutherie electronique occidentale. Le melomane deja familiarise' avec la musique de TUU sait que cettenouvelle livraison lui apportera serenite et detachement au sens quasi bouddhiste du terme. "Invocation" est la reedition en Cd remasterisee'd'une cassette sortie en 1990, augmentee de 2 titres plus recents composes pourune choreographie. L'album se termine la' ou commence "One thousand years",les premier album sorti il y a maintenant trois ans.

Patric Vancayezeele / Revueet Corrige'e #27 mars 1996

Après s'etre créés une véritable réputation, largement méritée, ausein de la scène ambiante/rituelle grace à leurs deux premiers albums, TUU rééditent sur support numérique d'anciens morceaux jusqu'à présent uniquement disponibles sur une cassette en édition limitée.
Invocation réussit tuot de meme l'exploit de se placer loin devant bon nombredes productions ambiances traditionelles du meme acabit. Les percussions acoustiques sont nettement plus présentes qu'à l'habitude, ce qui renforce defacon perceptible la dynamique de la musique de TUU. C'est toujours le meme enchantement de profiter des athmospheres rituelles et ancestrales que ce trio magique nous offre, à l'aide de ses délicates percussions et de ses diverses flutes.
Loin d'etre anecdotique, cette réédition s'avère tout tout simplement essentielle, et saura vous combler d'extase lors de vos soirées les plus méditatives.
ExMachina acte III

Saluons l'heureuse intiative du label italien Hic Sunt Leones! Grace à lui,ces morceaux précédemment édités sur cassette -et donc peu diffuses- vont pouvoir etre écoutés par le plus grand nombre... Retour en 1990 donc, avant lasortie du premier CD comme le dernier titre l'indique judicieusement ("BeforeOne Thousand Years"). A l'epoque, le flutiste Richard Clare etait toujours présent et les morceaux sont donc illumines par de nombreux instruments àvents. On retrouve là l'alliance magique de vents et de percussions de Tuu,cette alchimie si parfaite qui transforme chaque morceau en une atmosphereunique, mélange hypnotique et captivant... Ajoutons à cela deux petits inédits,récemment composés pour une compagnie théatrale, plus ambiants que sescomparses. Un pur délice.
JMB / Harmonies Avril 1996
Other Cds available by this artist:
Tuu - The Frozen Lands (CD, Mini, Ltd)
Share on Facebook
Link to other sections' contents