Alio Die
The Hidden Spring HSL 050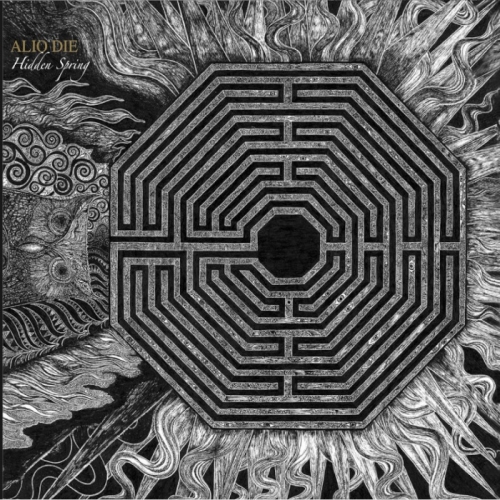 The music abandons us to the inky wet dimensions of the mostly deeply buried aspects of our psyches...
...all'eterna magia dell'impermanenza e alla bellezza del continuo trasformare in quel cangiante sciogliersi e ricomporsi, organico ed eterico, compiuto e inafferrabile... Con devozione a Pensiero creatore. (Alio Die) Se mai sono arrivato a dare realtà a Dio, se mai mi è stata accordata la visione di Dio, devo avere ricevuto la visione attraverso questo mondo, attraverso l'uomo, attraverso gli alberi e gli uccelli e gli animali, la polvere e il terreno. (Rabindranath Tagore) Tracks: 01 In mean time 02 Journey around a stone 03 Il giorno fu prima per un giorno 04 Amniotic pot 05 An istant in trasformation 06 The thresold of beauty 07 Under a cascade of light 08 The flight of real image 09 Internal top 10 The hidden spring Composed and recorded by Stefano Musso between 1993 and 1997 Remixed and remastered on Pro Tools june 1997 Stefano Musso: Samples, textures and drones, sound sources, bamboo, shells, cymbals, voice. Stephan Knappe (Maeror Tri): Gong and treatments on Track 9. Tracks 1,6 and 7 taken from the tape "Fragment 5", N.D. Texas. Track 2 taken from the mini-cd "The flight of real image" Hic Sunt Leones Italy. Track 8 taken from the cd compilation "Twilight Earth" Timebase Germany. Track 10 from cd compilation "The promises of silence" Hic Sunt Leones Italy. Cover Paintings by Joseph Uccello
The Hidden Spring (2008)

ALIODIE– The Hidden Spring; CD in 6 panel digipak limited to 333 copies

The music contained in this cd is the original 1997 Master Version, without the noise overload and the clips accidentally included in the first edition of "The Hidden Spring".

Stefan Knappe (Maeror Tri/Troum) plays gongs and treatments on track 9.




Hidden Spring
is the first chapter of a seminal ambient trilogy written by Stefano Musso. The schemas of composition based on vibrant droning chords, concrete sounds and omnious-dreamy like synthesized sections are once again well exposed. However these enchanting ambient pieces have never been so profound, serene and haunted. Hidden Spring certainly figure among the best Alio Die efforts. The two first compositions open with rising epiphanic ambiences including epic-majestic burgeonning drones and discreet percussive scintillations. Track 3 is an enigmatic-nocturnal-sacred piece based on repetition and abstract exotica. Track 4 is a tranquil-meditative subaquatic piece. Track 5 improves the sound with a sort of kosmische aura. The rest of the album is just as mesmerising as the previous pieces: Ultra hypnotic, ritual and transcendant electronic epics. Seriously at the top of emotional-spiritual, semi-acoustic ambient music with what Harold Budd, Steve Roach have the best to offer. Spaced out, peaceful harmonies, an eerie trip without being new agey. A personal favourite.
Philippe | 5/5 | 2009-1-30 from Progarchives.com, the ultimate progressive rock music website

"…Here's a collection of new and previously released compositions from some compilations,from this interesting ambient soundscape artist. Many of the tracks seem to suggest watery landscapes, with thick, murky, wave-like movement. Droning low tones, eerie chimes, as well as slightly musical synths, samples, etc. all have their place. The recording is flawless, with easily audible layering and a complete range of sounds. Running times are generally very appropriate, with a few longer journeys or brief interludes through out. This material is well done;there's a nice consistency between tracks without becoming redundant. These are fairly relaxing pieces, actually. I really enjoyed this. Alio Die is definitely exploring something I've not heard in the past and the originality is a plus."

"…Ony retrouve en effet outre des inédits, quelques titres issus de compilations et d'autres parus sur la cassette "fragments", le tout ayant été enregistré entre 1993 et 1997. Bizarrement,l'ensemble reste homogène, même si les morceaux les plus récents sont évidmment plus construits et surtout d'une richesse sonore incroyable. Nappes flottantes,sons saturels profonds, rythmes envoûtants. Pure merveille."

HARMONIE/ Jean-Marc Boucher autumn 1999

As with much of Alio Die's work, The Hidden Spring is an exercise in atmosphere and environmental evocation as much as it is a body of music. Drones, rhythmic noises (often reminiscent of mysterious creatures breathing or croaking), chimes and watery samples(splashing, bubbling) combine to create a particularly dark, moist and eerie release.
Surprisingly,this album comprises a selection of individually released compilation tracks combined with additional material prepared specifically for this release. Originally put out in 1997, the copy I reviewed is a limited-edition 2008 re-release. Despite the age and somewhat piece-meal nature of the album it holds together seamlessly and sounds not in the least bit dated or kitsch compared to more modern releases(both by Alio Die and by other ambient artists).
The journey through these ten tracks, clad in shadow-laden reverb and delay-soaked creaking, is threaded with leisurely-phrased drone lashings that paint,faded neon on a black, star-less sky, a sense of mysterious horizon.The atmosphere is deeply primordial – the stuff of outer space science fiction if only deep-ocean amoeba could write gloom-drenched space operas.
The music draws across different degrees of intensity, endlessly promising itself to be a prelude to something more definite, forceful, declarative – yet somehow always subsiding again into the brackish liquid that lurks constantly at the dark edges of the album's sound picture.
This serves to create a complex emotional palette: on the one hand, a sense of hope or optimism rides, cloaked, throughout the tracks, but on the other hand the music abandons us to the inky wet dimensions of the mostly deeply buried aspects of our psyches.
It is almost an evolutionary journey, inviting us back down our own biological history into the antediluvian guts of perhaps even pre-vertebral sea life, lurking with a kind of Lovecraftian sentience at the seat, the hidden spring if you will, of terrestrial organic history. And yet,like Lovecraft's submarine antagonists, with a root that runs again deeper into malign alien origins.
I've noticed a recurring motif in Alio Die's work is the exploration of liminality, the places where distinct forces become blurred and difficult to separate. By drawing together atmospheres of the deep ocean and outer space; by keeping our consciousness floating on the surface of an almost vegetative, watery state, The Hidden Spring continues this theme.
Curiously,for all of the deep ocean and space imagery this release conjures, it does not feel cold or asphyxiating. Perhaps the muted tones of the sound palette smooth off the harshness of the music; this is the aural analogue of consuming opiates rather than drowning violently.
The unsettling sonar drones, voice-like distant murmurs and unnatural liquid samples combine to invite the listener into a range of very deep trance states; the album is equally suitable for gentle background mood-setting and intensely focussed attention. All in all it invites the listener's awareness into an array of inner journeys, provoking a primitive and ineffable gloom to flower in one's consciousness.
Heathenharvest.com | Henry Lauer

Share on Facebook