Alio Die & Yannick Dauby
Descendre cinq lacs au travers d'une voilé CD Maxi HSL 017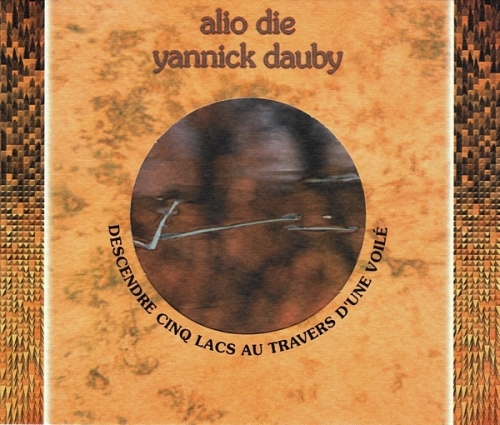 ..a masterpiece of meditative breathing, spiralling up from silence with an astounding spiritual grace..floating over a gigantic,unknowable abyss.
Cd-Ep limited edition of 1000 Tracks: 01 Descendre cinq lacs au travers d'une voilé Stefano Musso: Samples, textures and drones. Yannick Dauby: Electronic effects, water treatments, tibetan bowls. Composed and recorded by Stefano Musso and Yannick Dauby in December 1997. Mixed on Pro Tools January 1998. Photo of this page by Yannick Dauby, all photos and artwork by Stefano Gentile. Thanks to: Stefano e Manuel Gentile, Raffaele Serra, Amelia Cuni, Robert Rich, Antonio Testa, Gianluigi Gasparetti, Dirk Serries, Bjorn Mascher.
Descendre cinq lacs au travers d'une voilé (1998)
Musso's short one-piece collaboration with Yannick Dauby, also part ofthe Amplexus umbrella of labels, seems to follow Suspended Feathers as if it should have been there, it's a near masterpiece of meditative breathing, spiralling up from silence with an astounding spiritual grace. I've always had a hard time even describing this album given its 21 minutes seems to go in a shot, it's definitely not really music for conscious listening, oozing its way through the cracks in one's attention and often causing me to for the start button. Like all great ambient music it has a medicinal quality that's stress relieving and gentle, but also like floating over a gigantic, unknowable abyss.
Mike|unencumberedmusicreviews.blogspot.com


New release featuring the calm meditative sounds of ALIO DIE (providing samples, textures and drones) and YANNICK DAUBY completing the collage with electronic effects, water treatment sand Tibetan bowls. A virtual silent
running through of the most hidden feelings in dreamy atmospherics - an instrumental collage of enchanting sounds and gentle complexity. Nice piece,limited to 1000 copies only in A6 sized full colour wallet.


There's a sea beyond the mountains. The sea is where you're going, and to get there, you must go through the mountains. And to get to the mountains, you must first pass through the ice caverns. And before that, there is the marsh. Though the journey will not be an easy one, it will be short, and you will not be harmed. And your time at the see will be a bouyant and joyous one, a font of wistful memories and sated desires.Do not let the journey dissuade you -- focus on the the beauty of the sea. Oh, I remember all my times at the sea, and I never hesitate to go there when ever it is that I can. My only regret is that there are so few of the original maps left.Seek thee.

"Descendre Cinq Lacs au Tavers D'Une Voile" is a three-inch miniCD from Alio Die, nee Stefano Musso, and Yannick Dauby. Stefano has been rather prolific of late, both in his solo work and in his collaborations. This disc is sotypical of his style that even the deepest listeners will struggle to identify Yannick's contributions. But they are there! There are some very exotic and convoluted experimental sounds among Stefano's signature minimalist manipulations. Those are Yannick's. This disc is a trip to the lighter side of Stefano's realm. Yannick's sound design augments the brightness with a curious filipio as an exclamation point! This disc needs and provides warmth and comfort. Share it with a friend!
Reviewed by Jim Brenholts, author of "Tracks Across the Universe: A Chronology of Ambient and Electronic Music"



Deux « ambiencers » se réunissentici pour donner l'album le plus subtil de cette discographie. Unefinesse aux aspects assez contemporains s'en dégage. Imaginezle groupe LIGHTWAVE mais en plus chaleureux. Hélas, un seultitre (celui de l'album) nous laisse un peu sur notre faim. On voitici que l'Europe s'émancipe, et avec quel talent, des schémasaméricains. Par ailleurs, je découvre que la Francecompte un talent caché qui fait rimer intellectualisme avecbon goût (c'est exceptionnel, car en généralSCHAEFFER, REDOLFI, BOULEZ and Co m'emmerdent). Un texte d'AliceBAILEY, théosophe, glosant sur l'ubiquité de laconscience et donc de la perception, figure sur la jaquette. Aprèsécoute de ce CD, on y croit. Suivra après ce joyau unecollaboration
(5 000 Spirits)
dont le résultat est assez dispensable (
MesmericRevelation
en 1999 et leprécédent,
A Tapestry of Sorcerers
en 1995, vous feront épargner des sous).


Hery/Rythmes-croises.org/traversesmag
This limited edition EP contains one 21-minute abstract/experimental soundscape with psychedelic undercurrents. Overall spiritual and meditative in nature, the sound collage of textures, electronic effects, water elements and Tibetan bowls is meant for deep listening as we travel through the veil into dreamy atmospherics, accompanied by vast drone pads.
So if you find comfort and spiritual enlightment in the deep end of the ambient trail,
"Descendre cinq lacs au travers d'une voilé"
could be something for you.
Sonicimmersion.org © Bert Strolenberg

Share on Facebook