Alio Die & Nick Parkin
Aquam Metallicam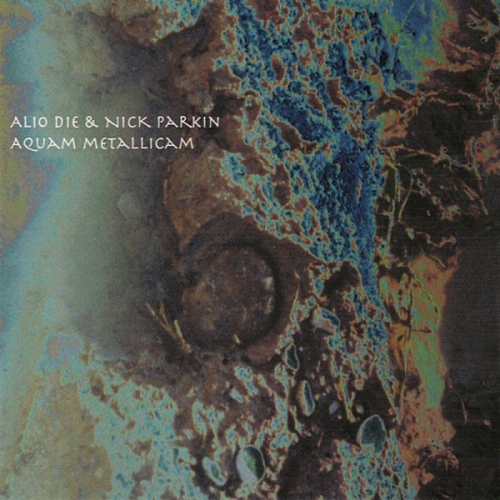 Magnificent linear,ambient structures pervade the space of cool, metallic sound, from where a panoply of bucolic & ethereal effects surge.


Tracks:
01
Regio lucis
02 Aqua metallicam
03 Turba
04 Untious vapour
05 Marcasites
06 Silent dew
07 Nitre
08 The thrird column
09 Lixivium
Stefano Musso: Samples, percussion, shells, rattles, effects processing.
Nick Parkin: Bowed, psaltery, percussion, samples.
Composed, recorded, mixed and produced by Stefano Musso and Nick Parkin on Pro Tools, October 2000 at Lunae Studio, Lunigiana - Italy.
Executive Production: Luciano Dari.
Photos on page 2,3,4 & back by Paul Trocha, New York.
Cover photo by Gerardo Battista.
Seed photo and artwork by Stefano Musso.
Thanks to:
Luciano Dari for his support and Stefano Bellemo for handmade shell's and pine fruits's rattles we've used here.
Aquam Metellicam (2001)
The Italian label M.M.M. presents us one of the most important acts from its factory, a finest collaboration between Stefano Musso (ALIO DIE) & Nick Parkin, an English multi instrumentalist and composer who has collaborated with some musical and artistic projects around the world. In this collaboration, both musicians get a very interesting work based on the energy of the elements(light, fire, water, ...), similar to a journey in a world of vibrations through different notes and atmospheres. Stefano Musso contributes with his special ability to create ambient, magical and ritual music, handling different electronic and ethnic/natural instruments. The title of the album, "Aquam Metallicam" (Metallic Water), shows signs of the general concept of this work perfectly. Moreover, this track recalls landscapes of heavy water beating on emptiness, in the same way that other "aquatic" tracks like "Turba" or"Silent dew", this last being a nice composition that reminds of a cold andrainy sunrise. But the light is also present on this album: the introduction called "Regio Lucis" (Light's region), refers to the power of the sunlight.During ten minutes, this introduction evokes a sea of tranquillity, combining rising and descending sounds and effects, ending in a total hypnotic trance, an outstanding moment in this CD that reminds us to other works of ALIO DIE.

Quietand, even, dark moments can also be found in "Unctious Vapour" or "Marcasites",another magnificent track covered with sinuous and metallic percussion as well as with deep sounds.
Finally and in search of the representation of the Mother Nature, we find the last three compositions: "Nitre", "The Third Column" and "Lixivium", those offering us a new musical dimension mainly orientated to the contemporary and experimental scene. It must be borne in mind that Nick Parkin has worked in this musical movement through important collaborations with some bands, as well as with dance and theater companies, but, above all, his participation with the project T.U.U. (another amazing experimental and ritual band) is highlyimportant. These tracks have been created with oscillated and varied effects,sounds and percussions, extracted from both real and electronic sources, and looking for a perfect equilibrium between the different elements from the earth(stones, organic and inorganic components, wind...), as if they would like to paint desolated, ruined or isolated landscapes through music. It should be pointed out that some instruments used for the release of this CD were hand made by the musicians themselves.
The final result is very surprising, well-chosen compositions for an intimate album that raises the prestigious career of this Italian project. Another great success for Musica Maxima Magnetica!.
Kill Fäktor

The paths of Stefano Musso, the mastermind of Alio Die, and Nick Parkin were bound to cross one day, given the similarities of their musical approach. Nick Parkin,a multi-instrumentalist composer living in London, who has already collaborated with Stillpoint and TUU, worked as a composer for dance and theater, and released a multitude of solo albums, met Stefano in Italy for the recording of this superb "Aquam Metallicam". When listening to these 9 pieces, onef inds that rarely an album title has been chosen more carefully. Magnificent linear, ambient structures pervade the space of cool, metallic sound, from where a panoply of bucolic and ethereal effects surge, gracefully whirling about through this impressive sonic cathedral that lays the musical foundation for each of the pieces. A harmony of elements revealed in all their splendour - air and water, earth, fire and ice communicating with one single spirit, united in the sound of celestial vibrations by these two masters of ambient. A work of overwhelming, timeless beauty. Highly recommended !
StéphaneF. September 2002


Other CDs available by this artist:
Nick Parkin - Descent (CD, Album)

Share on Facebook