Alio Die & Luciano Daini
End of an Era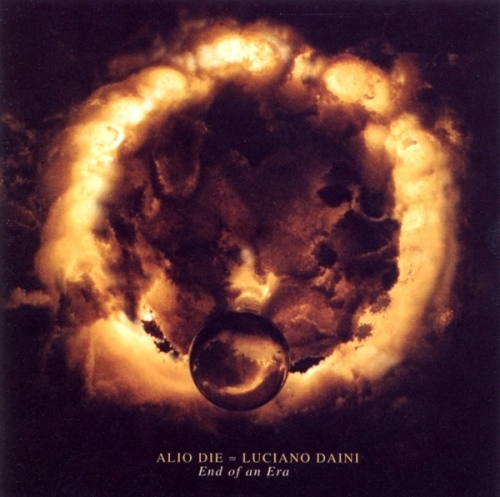 ..Quite a dark and atmospheric album, where the obscurities give the proper preparation to some clear and intense moments... .


"Credo solo a ciò che non vedo e unicamente a quello che sento" (Gustave Moreau)
Tracks:
01

La Rocca's View
02

End of an Era
03
Desert's Breath 04
Il Volo Assunto0
5

Crucibulum
06

L'Inequivocabile Quintessenza
07

Nocturnal Solution
All Tracks Composed and Performed by
Stefano Musso(©BMI) and Luciano Daini
between 2003 and 2007 at Temple Studio
and Rocca Leonella Soft Room.
Mastered on Pro Tools, Milan

2007.
Alio Die: Psaltery, Zither, Drones and Loops ,
Editing and Field Recordings.
Luciano Daini: Cello, Flik-Horn, Zither, Voice, Flutes,
Metals, Percussions,

Rattles, Keyboards.
Special Thanks to Saffron Wood
for Air's sample on "End of an Era".
Photos by Bjorn Mascher.
Clouds Photo by Luciano Daini.
Artwork by Hic Sunt Leones.


End of an Era (2007)
A project started slowly into reciprocal esteem from musical researches and alchemical and introspective approach to sounds. Quite a dark atmospheric album, where the obscurities give the proper preparation to some clear and intense moments.

Alio Die works more often than not with collaborators who share his aesthetic sense as well as nationality. In this way, and by giving them equal billing, he and his label Hic Sunt Leones provide an invaluable showcase where the rest of the world can discover a whole slew of relatively unknown ambient artists from Italy.
It is also interesting, as we watch the mature Alio Die´s care erevolve, to see him relegate electronics to the back seat, increasingly choosing instead to generate his drones and soundscapes with acoustic instruments.
This album is a cross between a kind of pan-global ethnic sound -all those wind instruments - and an almost sacral, late Medieval feeling - had he been born five hundred years ago, Alio Die would no doubt have composed for the church.
Luciano Daini´s cello lends the title track an essential focal point to an otherwise abstract setting that sounds like things quietly falling apart, or gently being pulled apart by angels. Of course the end of any one era means the beginning of another - by the time wer each this point on the album, we´re still only a third of the way through.
The next phase of the album is introduced with a whiff of Arabian"Desert´s Breath", which heralds "Il Volo Assunto", featuring the album´s most exquisite textures. While "L´Inequivocabile Quintessenza" rambles too much (ambient improv gone astray), the closing track "Nocturnal Solution" brings us in for a very soft and pleasant landing.
Stephen Fruitman | Sonomu.net
Share on Facebook
Link to other sections' contents