Alio Die
Deconsecrated and Pure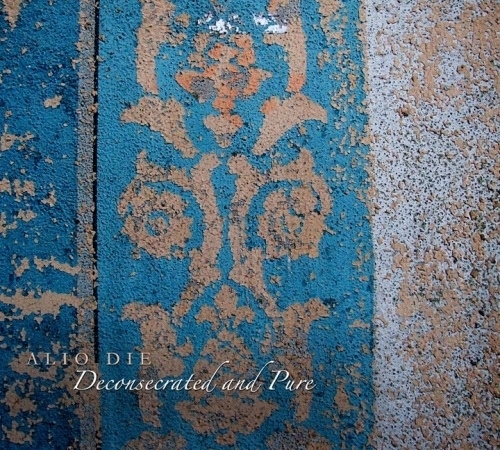 "An evocative liturgy from the realm where electronic music meets acoustic drones, found objects, sacral voices and field recordings" - Projekt march 2012
Deconsecrated and Pure
1 Layers of faith
2 Obliterated Alcove
3 Peel away this mortal coil
4 Cerulean facade
5 De-altared
All music composed and celebrated
by Stefano Musso in 2010 and 2011 at Temple Studio, Milan.
Published by BMI.
Alio Die: drones and loops, glass and metals, field recordings.
Special thanks to Paolo Tognon and Quoniam Ensemble di Dulciane for source materials.
Cover photos and titles by Nebbie Loon / Nebulagirl.
Artwork by Projekt
Deconsecrated and Pure is an evocative liturgy from the realm where electronic music meets acoustic drones, found objects, sacral voices and field recordings.
Italian ambient-acoustic sonic sculptor Stefano Musso returns for his first solo Alio Die release on Projekt in 20 years. Don't get the idea he's been on vacation, however! Since 1992 he has released 37 collaboration CDs and 19 solo CDs; this makes Deconsecrated and Pure Alio Die's 20th solo release! Welcome back!
The processed traditional instruments and natural textures float alongside rich electro-organic drones, creating a perfect introspective soundtrack with a medieval and sacral atmosphere. Serene and meditative textures combine in a chorus of circular and interwoven sounds,reflecting the harmony of the cosmos as an opus of inner stillness.
Processed and layered into the mix are vocal pieces by Claudio Merulo. The work of this 16th century Venetian Renaissance composer was performed byPaolo Tognon and Quoniam Ensemble di Dulciane and De Labyrintho Ensemble Della Rinascenza, creating the essence of a historical religious feel.
The gradual evolution of the arrangements create a strong impression that the listener has been carried across time and space. Elements such as sonically-tampered Middle East horns (The dulciana, a sort of early basoon/oboe), solemn atmospheres of the courts of the Italian Renaissance, and evocative soundscapes cosmic and ethereal combine for holiness and trascendence.
To create this work, Stefano selected fragments of sessions recorded with the acoustic instruments, modifying them through multi-layered loops. Pitch and frequencies changed, effects were added, other sound objects were played and processed into the mix. This was further augmented with the electronics and field recordings adding more layers; metamorphosizing the whole atmosphere into a deep trance mood. What makes Alio Die's compositions glow is the attention to detail; there's always something changing; something from the background floats to the foreground as it is slowly modified, or perhaps it's the gentle addition of a bagpipe or stringed instruments. It all intertwines through constant modulation,addition of atmospheric sounds, and re-contextualization.
Marvelously floating and hauntingly expressive, 'Deconsecrated and Pure' feels like a liturgical poem within an archaic mausoleum distorted by time.
BIO:
AlioDie is the name of Stefano Musso's shimmering, expansive dronescaping project. Musso's work began in electro-acoustic research and he started to work under the name Alio Die in 1989. He is also known for his fruitful collaboration with artists such as Robert Rich, Vidna Obmana,Mathias Grassow and others.
His personal musical signature is a hybrid between sonic sonorous soundscapes and acoustic mysticism.
A poignant and ecstatic journey of sounds.

(Label press)


"Deconsecrated and Pure"
by Alio Die (aka Italian ambient-acoustic composer Stefano Musso) is a work of minimal sonic art where electronic music meets infinite loops, acoustic drones, sounds of metal and glass, bagpipe, stringed instruments, sacral voices and field recordings. It enters a profound liturgic but also timeless realm where the constant modulation and fine tuning of all sonic elements is key.
The 65-minutes of rather circular and profounf ethereal music, presented in five lengthy pieces, takes the listener into a sacred world of stilllness and introspection, while tapping into medieval spheres and passed religious times.
The first piece, the 15-minute
"Layers of Faith"
, is my personal (and only) highlight on this disc: its contemplative aura of sonically tampered Middle Eastern horns is hauntingly beautiful, emotive and expressive.
In addition, there are some processed vocal/choir pieces of 16th century Venetian Renaissance composer Claudio Merulo featured on the following tracks, mingled with the gentle flow of sonorous soundscape textures. It even deepens the religious feel, although it's a pity there's occasionally some distortion to be heard as well.
The organic sound alchemy of
"Deconsecrated and Pure"
is a deep trance experience connecting the cosmic with the ethereal, holiness and transcendent.
© Bert Strolenberg


Deconsecrated and Pure (2012)
I recently purchased your most recent CD, "
Deconsecrated And Pure
". I have many ambient recordings and had to tell you how much I enjoy its sound. I also have to say that is addicting! I can't quite put into words what it is that makes it so. It draws me into a whole new space, unlike anything else in my collection and I think its organic nature is the key. Much of the ambient genre is electronic/synthesizer based and most of it is all good.
However, the way in which you have combined and melded the voices and various field recordings moves beyond the perceived randomness of other electronic recordings and the resulting music takes on a living, breathing presence that cannot be done any other way.
Charlie Balogh (professional musician and organist,Arizona,USA)


Lush with sacred music overtones and lightly wound with shadow, Alio Die's new release,
Deconsecrated and Pure
,establishes a sense of meditative reverence from its first notes tocreate an extremely intimate ambient space. A hymnal quality takes overfrom the start in "Layers of Faith." Woodwind sounds take the lead hereas Alio Die (aka Stefano Musso) builds his way toward a wonderful sonic density. Light touches of field recordings help Musso carve out a sacred grove for the listener, a very personal cloister for hushed reflection. The second track, "Obliterated Alcove," gets a lift from vocal samples. Musso takes recordings of work by 16th century Venetian Renaissance composer Claudio Merulo, performed by Paolo Tognon and the Quoniam Ensemble di Dulciane and De Labyrintho Ensemble Della Rinascenza, and layers them over his droning loops. His arrangement,apparently giving each voice in this choir its own personal phrase,makes each feel like a piece of a quite larger whole, the segments falling apart and coming together in a rich, fragmented prayer. Near the six-minute mark, Musso pulls back the drones and lets the voices take the forefront. This is where the disc elevates to its strongest sense of the sacred, riding on that largely unprocessed presence. Again, as the field recording of a stream (or rain? hard to say) is subtly dovetailed into the mix, the atmosphere of the piece is again heightened. With "Peel Away This Mortal Coil," Musso introduces a clattering bit of dissonance into the mix, playing with the contrast of metallic collisions, twists of key-searching woodwinds and his base drones. It's a busy track, but the chaos is obviously controlled. Nothing overwhelms; there's a tenuous chemistry happening between elements, and the dissonance just skirts the edge of feeling too random. What makes this work even more is that it flows into the softer space of "Cerulean Flow." This is my favorite stretch of the disc, ten minutes spent wrapped in concentric coils of sound. There is a warmth to the voice here that may be amplified just a bit from its coming on the heels of "…Mortal Coil."–but it's a very personal warmth,regardless. Musso closes the disc with "De-Altared," again giving over to threads that initially compete and jar one another. The woodwind shonk rather than sing; wayward field sounds poke out of the sound; the mass feels like it's trying to find its identity–but again, within the tangle a calming sense of near-order surfaces. There are so many intricate layers at work, it's a pleasure to get lost in the interplay.This is the longest track on the disc, and Musso carefully plays with the balance of sound and emotion, wildness and reserve.
Clearly, Deconsecrated and Pure is a deeply engaging piece of work. Musso's use of processed acoustic instruments–notably the dulciana, a type of oboe–embeds an organic depth in the flow. While they retain an ambient texture, there's a notable solidity to their tones that rises up in spots. The field recordings and even gentle tapping on metal, very earthy, present sounds, are gingerly placed as concrete elements in the otherwise empyrean atmospheres Musso creates.This is the product of a master at work. Listen to it many times over;there's a lot to hear, all worth the effort of listening closely.
Hypnagogue.net

It is a really hot summer outside my home, and during this pure hell I need some refreshment not only physical, but also mental and emotional. That's why I take a new album of Alio Die in search for this kind of relief. Without a doubt, Stefano Musso, the man behind Alio Die, became one of the most significant names on ambient scene during almost 25 years of his career. With enormous amount of both solo albums and different collaborations, he brought his own vision of the musical experience from surrounding world. And this time its Stefano's 20th album which lands into my hands to fill few hours of relaxation with a background support.

On "Deconsecrated and Pure" Alio Die introduces a totally airy atmosphere of almost meditative origin. A combination of field recordings with sonic soundscapes exists in all 5 long tracks. The first of them is "Layers of Faith" , where different natural sounds like water splashing, wind blowing and others are carved into the texture of the wide ambiance created by a loopy background melody as light as a very thin cloud driven by gentle breath of nature. This melody is circling and flowing out of the speakers forcing the air around to tinkle with the bells of primal energy. The constant stream of sound brings the second track "Obliterated Alcove", where the choral voices enter the scene to add more sacral feeling into the music, which again stays very light and airy. The vocal parts are processed from the compositions of Claudio Merulo, 16th century Venetian Renaissance composer, and were performed by Paolo Tognon and Quoniam Ensemble di Dulciane and De Labyrintho Ensemble Della Rinascenza; they contribute a little bit of grief into the sonic layers of this track together with a slight touch of liturgy.

"Peel Away this Mortal Coil" is a very deep exploration of wide plains of imagination to drown inside pure lake of feelings, to remove all the negativism and dirt of everyday constant race after the frail goods. And only when you peel away your mortal coil, you can reach the shores of sedation and find piece with yourself and divine. In "Cerulean Fasade" the message is clear again, pushed towards relaxation and meditation, where the sound movement is slow, fool of wide colors, and an able paint brush creates an aquarelle of light emotions.

Just in time, when I already thought that I could not dive deeper, comes the final composition called "De-Altared". Few string instruments added here, some bell clicking and ticking, natural sounds are all around, viscous melody covers me with its cerement and guides into the very depth of lethargy.

As the conclusion, the new album from Alio Die is a good example of what ambient music can be when it reaches the highest levels of creativity. Even without being something innovative, this record presents a lot of delights to ambient fans, bringing a solid meditative mood combined with reflections of Stefano's personal abstract and mysterious experience. Without a doubt, Alio Die proves once again its credibility of being one of the most recognizable and talented names at ambient scene for the past 20 years.
Andrew / BrutalResonance.com

Stefano Musso has been retro-soundscaping the late Middle Ages and dawn of the Renaissance all by himself, especially in the last few years with works such as
Il Giardino Ermeneutico,
La Sala Dei Cristalli
and
Horas Tibi Serenas
. In a cosmology that stemmed back to the ancient Greeks, the Medieval earth nestled at the very centre, as a perfectly-proportioned universe revolved gently around it. According to this perception, the heavens were immutable and harmonious while the earth was transient and corruptable. Thus mankind strove to create works of great beauty and symmetry to bring order to the world, and to please God by doing so.
Recordinig for nearly a quarter-century under the name Alio Die, few electronic composers work as bewitchingly with acoustic sound sources as Musso. Here he has processed and layered vocal pieces by 16th century Venetian composer Claudio Merulo as performed by the Quoniam Ensemble di Dulciane and De Labyrintho Ensemble Della Rinascenza. Fragments of choir song and small early-music ensemble both rich and pellucid metamorphose from straightforward recording to abstract clouds of unknowing as they are treated, looped and looped again, and augmented with Musso's electronics and field recordings.
Despite all these layers, the tone is light as air and the air is illuminated with dazzling rays of light. The pleasant cadences that caress the ear belie the meticulous arrangement Musso invests in his five mystery tableaux—his detailed construction of repeating, slowly shapeshifting motifs is nothing short of miraculous. The middle track, "Peel Away This Mortal Coil," is the earthiest piece, full of reeds and pipes and donkey bells, perhaps one of those day-long village fests of fools and misrule.
Why deconsecrated and pure? Maybe Alio Die, our contemporary, turns the ancient worldview upside-down, having embraced as we have the evidence that the heavens roil and constantly expand, while it is we puny humans who are capable of creating purity and symmetry out of our robust, if not individually eternal, mortality.
Stephen Fritman / IglooMag.com

Der aus Italien stammende Stefano Musso verbirgt sich hinter dem Pseydonym -Alio Die- und seine Musik ist dem Ambient-Stil zuzuordnen. Es ist das erste mal, das meine Ohren mit seiner Musik konfrontiert werden......aber, es ist wirklich interessante Musik, wenn auch nicht einfach zu verdauen ;-)
Aus meiner Erfahrung her, hat der italienische Stil einen gewissen Hang zum "verspielt sein". Das habe ich aus der Musik von BIOnighT, oder Mac of BIOnighT herausgehört. Dies ist aus dem ersten Titel der CD herauszuhören, der noch ein wenig Melodien in sich hat. Dieses Stück würde ganz toll in einer Kathedrale rüberkommen :-) Danach geht es in Richtung Dark-Ambient. Teilweise sind Sakrale Gesänge zu hören, was der Musik einen sehr "Mystischen Touch" verleiht.
Ich weiß nicht, ob ich mich von allein an die Musik von Alio Die herangewagt hätte.....aber manchmal ist es ganz gut, wenn man an andere Stile herangeführt wird.
Es ist aber ratsam, wenn man diesen Stil bevorzugt, um die Musik geniessen zu können. Für Neueinsteiger dürfte die Musik etwas zu "schwer" sein.
Sequenzerwelten.de



Share on Facebook