Alio Die
Honeysuckle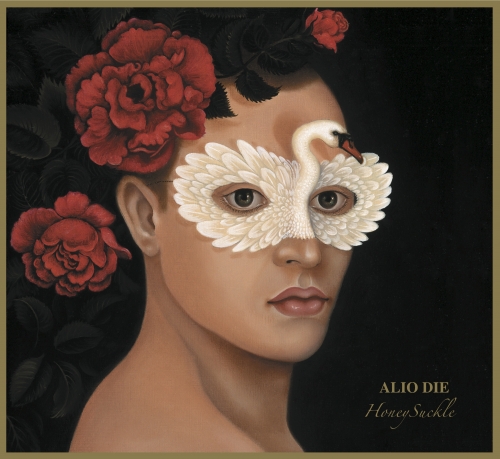 "it is only when we make ourselves a part of creation that we begin to live" paintings by Tino Rodriguez.
Tracking list:
Honeysuckle
Innamorato
Honey Mushroom
( Part I -Part II - Part III )
Composed and celebrated by
Stefano Musso (BMI) in 2010.
Mixed and mastered at Temple studio,
Milan january 2011
Alio Die: Drones and Loops, Zither.
Special thanks to Tino Rodriguez, Josef Sedlon,
for their precious support.
Paintings by Tino Rodriguez :
www.tinorodriguez.com
Artwork by Hic Sunt Leones.

Honeysuckle (2011)


Honeysuckle is the new solo album by Alio Die.. trance & drones,acoustic and electronic sound-effects, melt together in five tracks that are characterized with a touch of grace that expand consciousness in new and unforeseen dimensions.
..after a few seconds the music absorbs the listener under induction into the internal space that vibrates and resonates..
A lovely sensible experience is just close to be discovered and to spread its fragrance.
Like the humming bird that suck the honeysuckle's nectar standing in equilibrium through the air.
Beautiful artwork by Tino Rodriguez ,
Let me say that his statement is also connected with the spirit of my music:
"it is only when we make ourselves a part of creation that we begin to live".
(Label press)

Yet another solo release by the master of organic drones Alio Die. So, what can you expect? More of the same? Nah.
The reason why I like Alio Die so much is that he is doing things entirely different everytime he releases something. A good examples of this is his album Tripidium Naturae.
This album was filled with folky influences and focussed on melody and shorter songs. It was something refreshing and he showed a different side from himself.
On Honeysuckle he somewhat returns to his classic and well-known style; long songs and slowly evolving drones with subtle melody and harmony. When I was listening to this album I always got the impression his was working with love as the main theme in mind. The overall atmosphere of this album is really romantic and just constantly reminded me of the concept love. The first song, Honeysuckle, is an epic piece of almost 25 minutes that rarely evolves during it's course.Hidden between the blankets of medieval sounding drones are beautiful melodies that are somewhat hard to make out, but you feel they are there. Personally, this is my least favourite song on this album because of it's monotone (wait, did I just say that?) nature compared to the rest of this album.
Innamorato is an amazing song and reminded me of his previous album Tempus Rei, although still really different. I love his more folky and medieval songs and I hope he continues with this in the future. It really marks his current style and sound and you instantly recognizes it's 'him'. This song is the personal highlight for me on this album,and it's the reason alone I would recommended Honeysuckle to you who is reading this.
The three following songs, Honeymushroom Part I, II and III, are a bit in the same vein as Honeysuckle but for some reason more to myliking. Maybe it's because of the somewhat melancholic atmosphere that was lacking in Honeysuckle. These three songs are melancholic, yet'happy'. It comes close to the feeling you get when you just fall in love with someone or something. You feel happy and sad at the sametime. One of the reasons why I like Alio Die so much is his ability to create melancholic atmospheres that are really unique. You can't really put a stamp on it, yet you just 'feel' it's there. And that's what this music makes you do; feel.
Honeysuckle is yet another brilliant output by the Italian drone master and another proof that he's still one of the most unique and versatile artists in the genre. If you're new to Alio Die, I suggest you first check out the albums included in this boxset. I'll review this box later in the future, so look out for that.
Please support this artist by buying this album here: www.discogs.com/seller/HicSuntLeones
Netherkhert/Sporu.wordpress.com

As usual for Alio Die during the last year or so, this Italian sonic sculptor returns with bunch of new titles on his own Hic Sunt Leones label. I already inspected Stefano's extraordinary co-work with fellow Italians, Aglaia, entitled "Vayu Rouah", now it's time to take a closer look at his solo effort "Honeysuckle". The album opens with 24 minutes long overturing title composition that unfolds into spiraling and tranquilly floating texture, calm and serene with hints of medieval perfumes. This piece moves rather monotonously during the first half, but later it slowly evolves and shifts into more breathing and joyful mood. Following composition, "Innamorato", is strongly meditative texture again featuring Alio Die's trademarking ingredients and approach. At the beginning it floates the same way, again with medieval touch, but sounding more acoustic with the zither put more into the fore. "Innamorato" is highly mesmerizing and heart touching!!! Remaining part of the album is entitled "Honey Mushroom" and consists of three parts. The first part, clocking to nearly 20 minutes, is dreamy, emotionally driven, another heartwarming song, later euphorically colored with tenderly tinkling strings of zither and reaching the realm of pure and majestic beauty!!! Yes, Alio Die at its most splendor and elegant artistry!!! Part II has slightly more nostalgic feel, but still with genuinely captivating and serene mood. Closing part III keeps nostalgia from the previous piece, puts the acoustics more into the action, yet still marvelously floating and hauntingly expressive. Absolutely gorgeous!!! Yes, "Honeysuckle" is beautifully gracious, graceful and majestic, just like the complete cover artwork featuring paintings by Tino Rodriguez on 6-panel digipak. Alio Die's music is one of a kind and if you feel it, then it's truly rewarding experience!!!
Richard Gürtler (Sep 03, 2011, Bratislava, Slovakia)
---
By now; almost every elecronic-prog follower knows that mostly all electronic " intentions" are going outside their own circle; more towards "Ambiental" expressions ( pulses or rhythms are now; not that fundamental and even unnecessary). The instrument by excellence the "synthetizers" can do more tricks now than those "old" ones. And of course the path has been opened up wide by "early" Prog Founder and Progressive- electronics wiz-kid; Brian Eno.
That is the tendency, but not all AMBIENT music is achieved with electronic instruments, the same goes for the songwriting. This is an "issue" corresponding to a pure "electronic" prog sub-genre. More in the case of this musician, who takes the best of both worlds acoustic and electric, breaking ground in the use of both musical languages. And really quiet progressive; "music wise".
This Alio Die 2010, 3-pieces effort, with an special early baroque flavor, hides its own baroque expression, by lowering down the emphasis on the tempo and paying more attention to the natural harmonics progression of harmonics. Therefore, the melodic lines are constantly appearing and dissolving.
As soon as it plays on, You will be caught in an entanglement of low-profile, baroque like flutes threading simultaneous progressions of minimal melodies (a natural wild "attribute" of harmonics) that fly in any direction. And yet build a whole environment as if "constructing while they pass by".
****5 , "a subtle electronic/acoustic "AMBIENT", masterpiece" PA stars.

(AdmireArt / progarchives.com)



Share on Facebook