Memory Geist
Benthos - Cdr Ltd edition 99 copies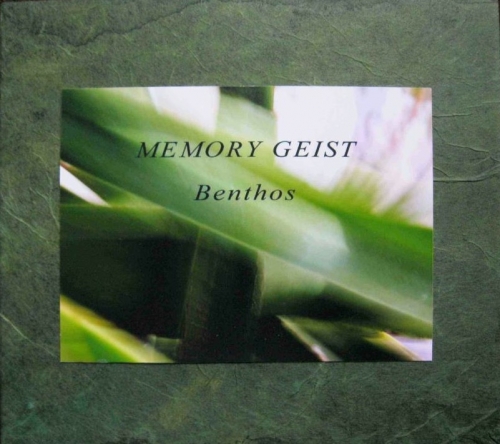 "spazia tra l'oscuro, tracce ritmiche industriali, cosmic style ed ambient, il duo dispone di una vasta gamma di sintetizzatori analogici modulari.."
Tracking list:
01 Metaphore
02 Mysticeti
03 Oceanmemory
04 Photophore
05 Carcharhinus
06 Bathosphere
Memory Geist 'Benthos' Cdr
all tracks composed, arranged and produced by Steve Law and Bakis Sirros, between 2007 and 2010
at Wavemountain studio, Athens, Greece and Solitary Sound, Melbourne, Australia.
photograph by Antonis Chaniotis : chaniotisant@gmail.com
artwork by Sara Luciani : www.saraluciani.com
Steve Law
: various analogue synthesizers & software.
Bakis Sirros
: modulars, analogue synths, string machines, tape echoes, software.

"Benthos"
is the second album by Memory Geist, the collaborative project of Steve Law (of Zen Paradox, Starseed Transmission & Black Cab) and Bakis Sirros (of Parallel Worlds & Interconnected). Their first album "Funereal Cavern" was released in 2007 by the well respected Italian experimental label Musica Maxima Magnetica.
The creation of "Benthos" has been a long process initiated in mid-2007 when Law visited Sirros in his home town of Athens, Greece and the duo recorded some initial material together comprising a variety of soundscapes, sequences, analogue rhythms & organic atmospheres. On his return to Melbourne in Australia, Law sculpted this raw material into a set of 6 tracks which were augmented by further soundscapes, rhythms and arrangement ideas sent across to him by Sirros. The gestation of "Benthos" took 4 years in total and has resulted in the birth of a complex and fascinating ambient electronica album. The pieces range from dark, industrial rhythmic tracks to cosmic style slabs of ambience and showcase the duos use of modular analogue synths alongside computer software manipulation.
the album is also
being released as a digital download, on the UK DiN label.
catalogue number DiNDDL09
http://www.din.org.uk/din/node/388
the album is available as a limited edition (100 copies) digipack CD-R from Alio Die's label Hic Sunt Leones.
(for the gear-heads: this album is full of various modular and analogue synths, including ARP 2600, Doepfer A100 / eurorack, Integrator, Serge modular, Technosaurus Selector, Metalbox/CGS, MS50, System-100m, Trident, etc, etc... )



Share on Facebook