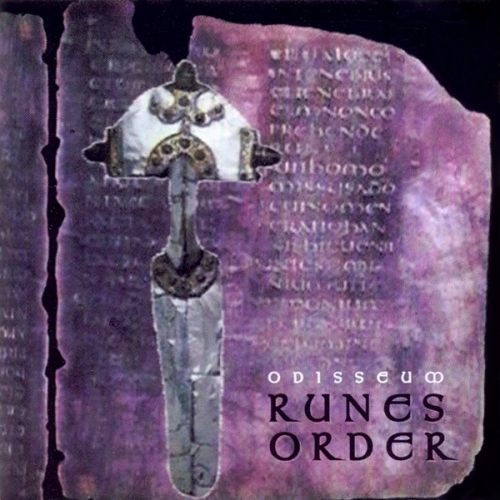 One of the best and more electronic cds by Runes Order, Odisseum (1996) reprinted by Sempiterna Mutatio/Hic Sunt Leones.
Tracks:
01 Visions
02 Soundtrack for the fear
03 Hate- part two
04 The fall
05 Solitaire
06 Win forever
07 Holy stones
08 Count down for E.
09 Theme n.5 - The death
10 Darkness before the light
Claudio Dondo : FM Synthesis, keyboards, percussions, trated voice, lyrics.
Daniele Magarelli : Keyboards, samplings, percussions, voice.
Paola Magarelli : Noises, advices
Aided by:
Pat Q : Voice on "the fall"
Andrea Schenone : Lyrics on " Hate"
Giorgio Mugnai : Lyrics on "The death"
Recorded at Odal & Nom Studio in spring 1995 on a 4 tracks recorder.
Mixed at live Studio Borzoli 30.06.95.
Editing 1996.
Graphics by Sine Tempore - Hic Sunt Leones 1996.
nasce per opera di Claudio Dondo nel 1988 con la denominazione Order 1968. Dopo svariate demo tapes di matrice dark ambient, nel 1992 il progetto prende il nome Runes Order. Il suono si orienta sul cosmic Kraut rock di scuola Tangerine Dream, K. Schultze, Faust… (1993 esce Winter – primo CD della band). Nel 1994 si uniscono al progetto Daniele e Paoloa Magarelli (in arte N.O.M.) con cui vengo…no registrati gli album "Land of Silence", "Odisseum" e "Waiting Forever". . .