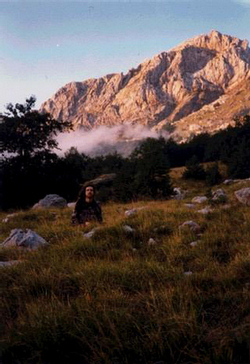 Situated in Tuscany region, Lunigiana, near the border between Liguria and Emilia , in Mulazzo the comunity of the seven castels, where Dante Alighieri was in exile, at his times.
It's still an incontaminate area , rich of wild valleys and rivers and chestnuts forests. The panorama is on the Apuane alps, on that side of the sacred muontains not touched from miners of marble, like happen on the other side near the sea.
The studio, is in an old house in stones, it look to a church one thousand years old, with an incline bell-tower.
In this area was recently discover two old "menhir" sculptures in stone from the pagan epoch.