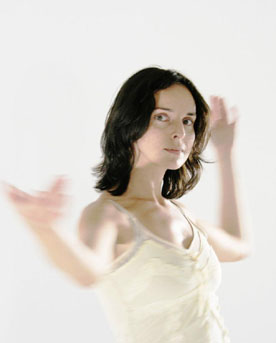 India by Damian Grabaski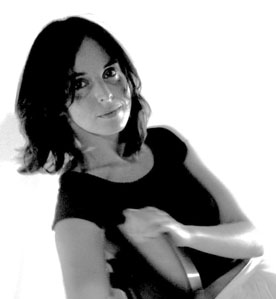 India by Damian Grabaski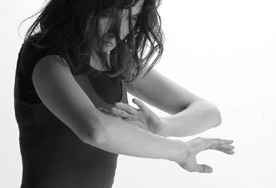 India by Mercedes Berg
India Czajkowska is a vocalist, composer and pianist. She studied at the Secondary School of Music in Lodz ( Poland ). She also graduated the Institute of Philosophy at Warsaw University . India is interested in vocal experiments, with sonoristic aspects and creating electronical soundscapes with voice. She also uses prepared piano and she works with some modern concepts of improvised music that are definitely connected with chamber acoustic sound and electronic musical influences.The music she creates is partly based on classical instruments combined with the experimental elements of electronics, computers, and sonoristic sounds.
Since 1997, she has been giving concerts with her acoustic group, Ness and solo concerts (piano & vocal) performing her compositions. Moreover, she performed old traditional Jewish motives and songs of Mordechaj Gebirtig in her own arrangements with the group Cadyk Ensemble (cello, violin, clarinet, cajon).
The contemporary improvised music and interdisciplinary performans connected with movement and video-art is one of the main interests of her artistic activity. In-between 2002-2004, she led her project KONSTELACJE that was imagined as a cycle of concerts of improvised music - at the music club Jazzgot. (PKiN, Warsaw ). This cycle of events presented various sound spectrum created by different constellations of invited musicians.She took part in the workshops Music for Creative Chamber Group lead by Joe Giardullo in The Centre for Contemporary Arts (Warsaw) and in workshops with John Butcher in France (Stage D'Improvisation Musicale & Choreographique, Festival NPAI, Parthenay 2004). In 2003, she also recorded and gave concerts with guitarist Noel Akchote. Since 2002, India has collaborated with Tadeusz Sudnik (live electronics) at the Studio Dzwiekow Niemozliwych as well as in many concerts performed together including audio-visual events (in trio with invited musicians: Andrzej Przybielski, Jacek Kochan, Andrzej Stolarz).
One of her last improvised project is Mermago-Trio with Ryszard Latecki (trumpet) and Maciek Cierlinski (hurdy-gurdy, loop station) and HIPNAGOG that was a group created with percussionist Tomek Choloniewski, Marek Choloniewski-composer of electronical music, and the guitarist, Marcin Dymiter. The first performance of this group could be heard at the festival UNSOUND in Cracow (October 2004).
Yet another area of her artistic interests is creating sound-tracks for films and music for the theatre. India has cooperated polish director Andrzej Titkow, with NRS GROUP from Sydney (documentary, " Poland 's New Jews"). She composed the soundtrack for "Summer Love"(2006) by Piotr Uklanski and wrote the music for the performances of The Theatre of TVP. She cooperated with the experimental move theatre Te'artKam, Wytwornia Theatre from Warsaw and Theatre 108- Teatr Drzewo Peruna. Besides as a singer, in 2001 she cooperated with the composer Bartek Gliniak, creating the sound track for a Swedish film by Agnieszka Lukasiak, "Algeria.The Nameless War".
As a vocalist she has had various experiences incuding trip-hop, post-rock, etno-jazz, Indian ragas. She worked with Elektra Kurtis, a Greek violinist from the U.S.A. and her group Ensemble Elektra.This co-operation resulted in an album called The Book Of Time (1999) released in New York . For two years she worked as an improvising singer with the Drum Freaks of Milo Kurtis giving lots of concerts with Bob Steward, Wlodek Kiniorski, Yanina Iwanski, Wallis Buchannan.
In 2000, the album was completed rooted in jazz and folk motives and rythms.As a guest musician she appeared on the Lux Occulta's album presenting trip-hop songs (The Mother And The Enemy, 2001, Maquiavel Music Entertainement, Portugal ). She has been described in reviews as an impressive vocalist with a "hipnotic, sensual" voice. Other cooperations: Le Plastique Mystification, dark ambient mixed/down tempo Ukrainian group, Stworywodne.Jaszczury. And, as a guest, she played improvised music with the Cannadian gongmaster, Don Coreaux in 2004.
Her first solo CD album "Cosmospir" was released in october 2008 by Hic Sunt Leones, a collaboration album with Alio Die is already started and could be out in 2009.