NEW LIMITED EDITION!!!
EYES OF THE SOUL - EXPLORING INSPIRATION IN ART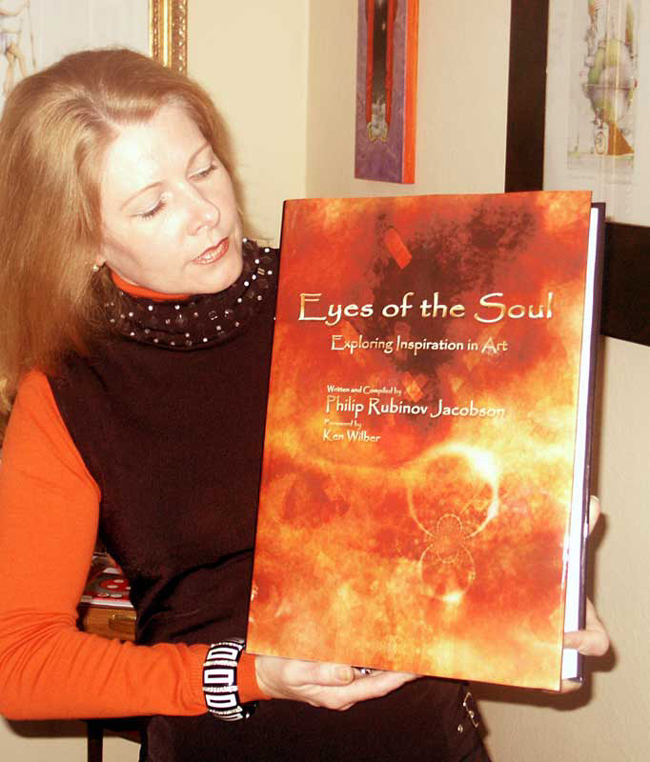 Written and Compiled by Philip Rubinov Jacobson
Foreword by Ken Wilber
This groundbreaking work explores sources of inspiration behind 149 artists around the world and tackles the elusive nature of invention and creativity. More than 500+color plates and 250+ black and white repros enhance the essays comprising 24 chapters that explore nature, dreams, drugs, intuition, spirituality, healing and more as reservoirs and fountainheads of artistic creation. 12 international authors also contribute their take on art, creativity and inspiration.
The book is 16 x 14 inches, in the English language, hard cover, 728 pages and weighs 13 pounds!
The first printing will be a very LIMITED EDITION so don't miss out.
Expected to be available in March, 2005 it is strongly advised that you PRE_ORDER now from the German publishers OPTIMUM-DRUCK in Bavaria.
See the cover and size in picture above.
For convenient ordering by CREDIT CARD/pay pal go to publisherís website at:
http://www.optimum-druck.com/order_eos.html
OPTIMUM DRUCK
Versand
Schlag 42-46
94481 Grafenau
Germany